research + discovery  |  definition  | ideation + strategy  | prototyping  |  testing  |  iteration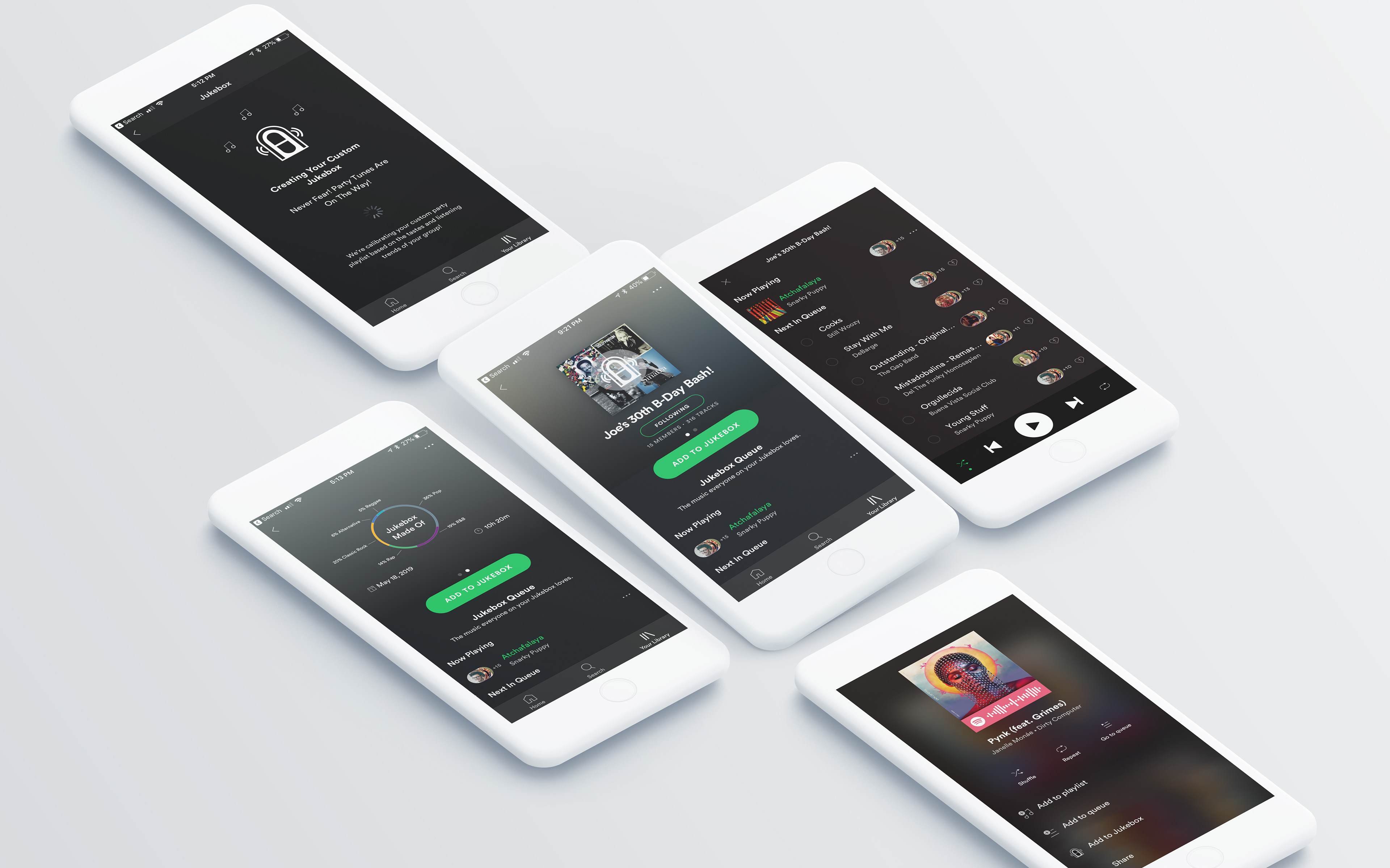 CLIENT:
 Designlab (UX Academy)
ROLE:
UX+UI Design (Research, Interaction Design, Visual Design) & Feature Design
TIMELINE: 
4 weeks at 20 hours/week (80 hours total)
TOOLS:
 Sketch, InVision, Photoshop
OUTCOME:
 New Spotify Jukebox feature to create smart collaborative event-based playlists
Spotify's mission is "to help people listen to whatever music they want, whenever they want, wherever they want—in a completely legal and accessible way." Long since a leader in the world of streaming music services, Spotify wants to improve user engagement and retention by incorporating an expansion of their social capabilities within the app. The creation of a new social feature for Spotify should favor human—and emotional—connection, first and foremost centered around users' distinctly personal relationships with music. 
While Spotify knows it wants this feature to have social capabilities, they are not interested in becoming a social networking platform—instead they are looking for help defining the best way to move new features in a more social direction, and will turn to their UX/UI team to lead the way from research to prototyping, testing and iteration. 
PROJECT GOALS & OBJECTIVES:
• 

Design a new social feature 
• ​​​​​​​

Seamlessly integrate new feature into the current Spotify mobile platform for iOS
• ​​​​​​​Test & reiterate! 
Research + Discovery
methodologies used: secondary research & primary research
deliverables: research plan, market analysis, competitive analysis, provisional personas, app audit, interview guide, user contextual inquiry
1. Determine how people find and consume digital music, streaming radio, and other audible media
2. Research Spotify's now defunct messaging feature and identify why it had low engagement among users
3. Understand how people use social media to engage with one another
4. Identify popular social media features that users frequent and find the most valuable and why
5. Understand Spotify's place within the larger market of music and audio streaming and subscription services
In February 2017 Spotify decided to remove its in-app inbox and messaging features, citing low engagement and the high resource cost required to maintain it. The feature shutdown took with it a primary method for fans to community directly artists and independent playlist-owners they followed. Instead user workarounds for sharing began to pop-up, bolstering social functionality via integrations with other third-party messaging apps. 
market analysis 
Spotify's existing infrastructure makes it well poised to further develop social functionality, as it's already engaging users with their personal networks and the musicians they listen to by allowing them to follow both other Spotify users and artists directly within the app. Spotify's direct competitors are also be trying their hand at greater social integration—Apple Music's integration of social features in the iOS 11 launch in 2017 was well received by its users. While how to properly "do social" is the challenge music streaming apps face, it's clear that users want avenues to share the music they love with those around them.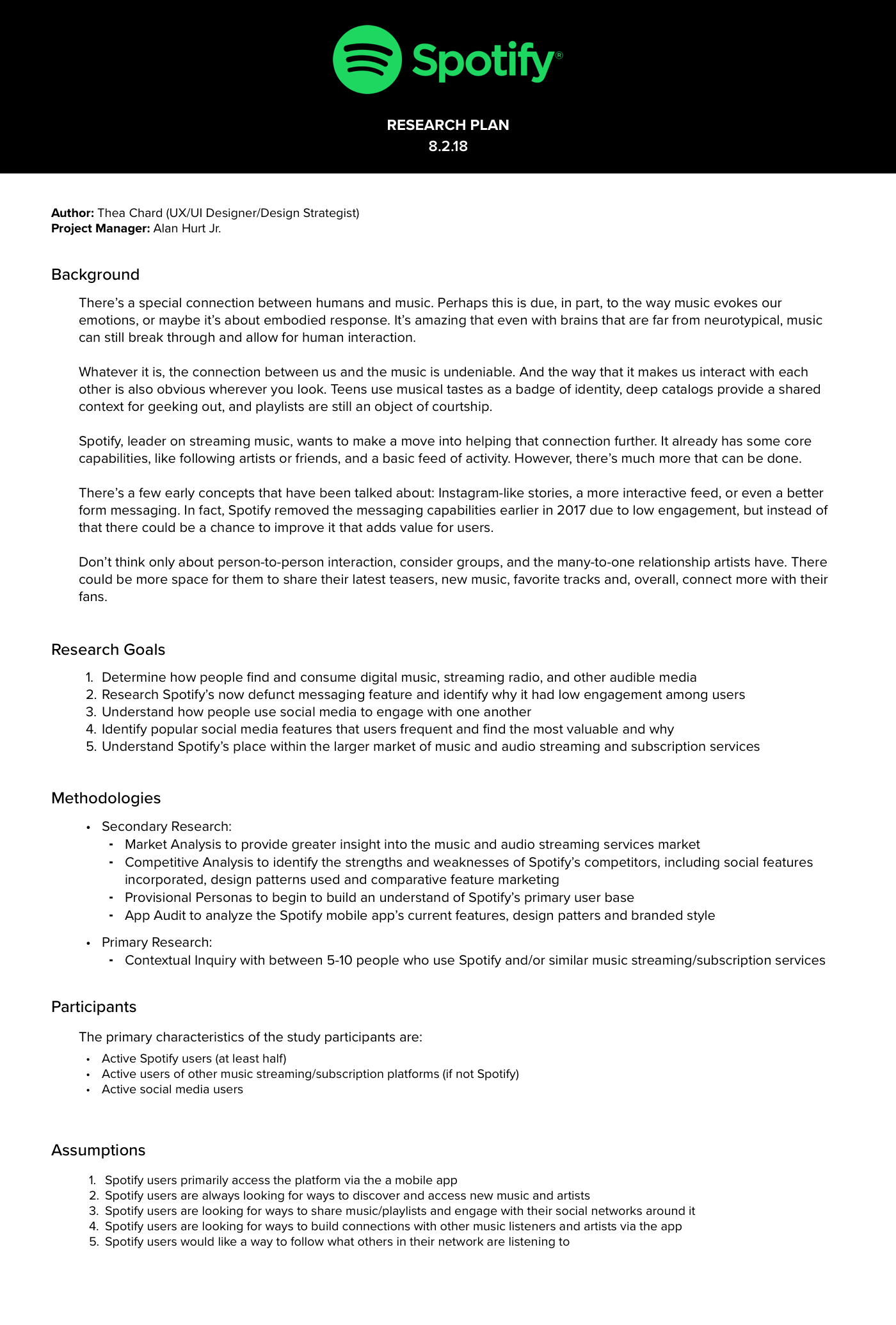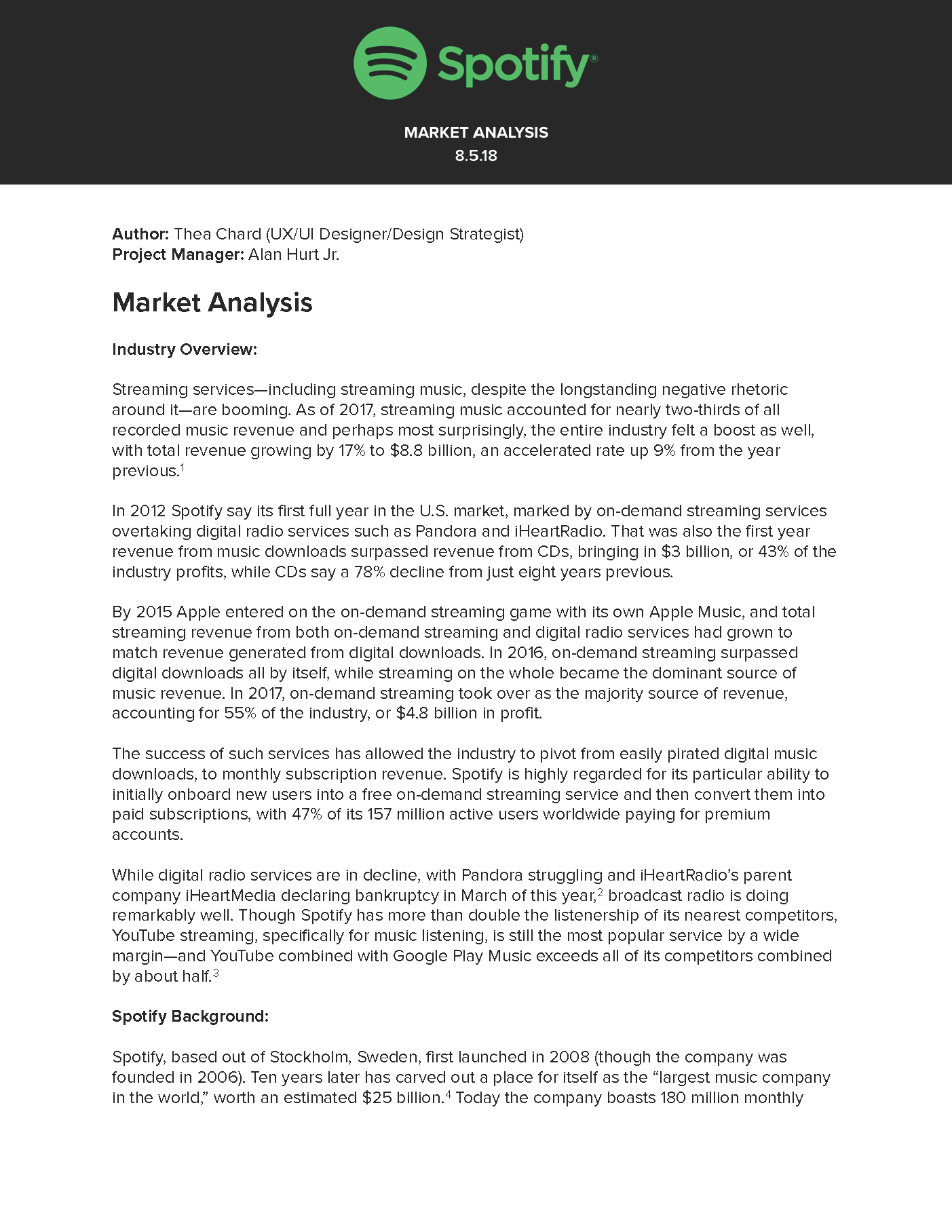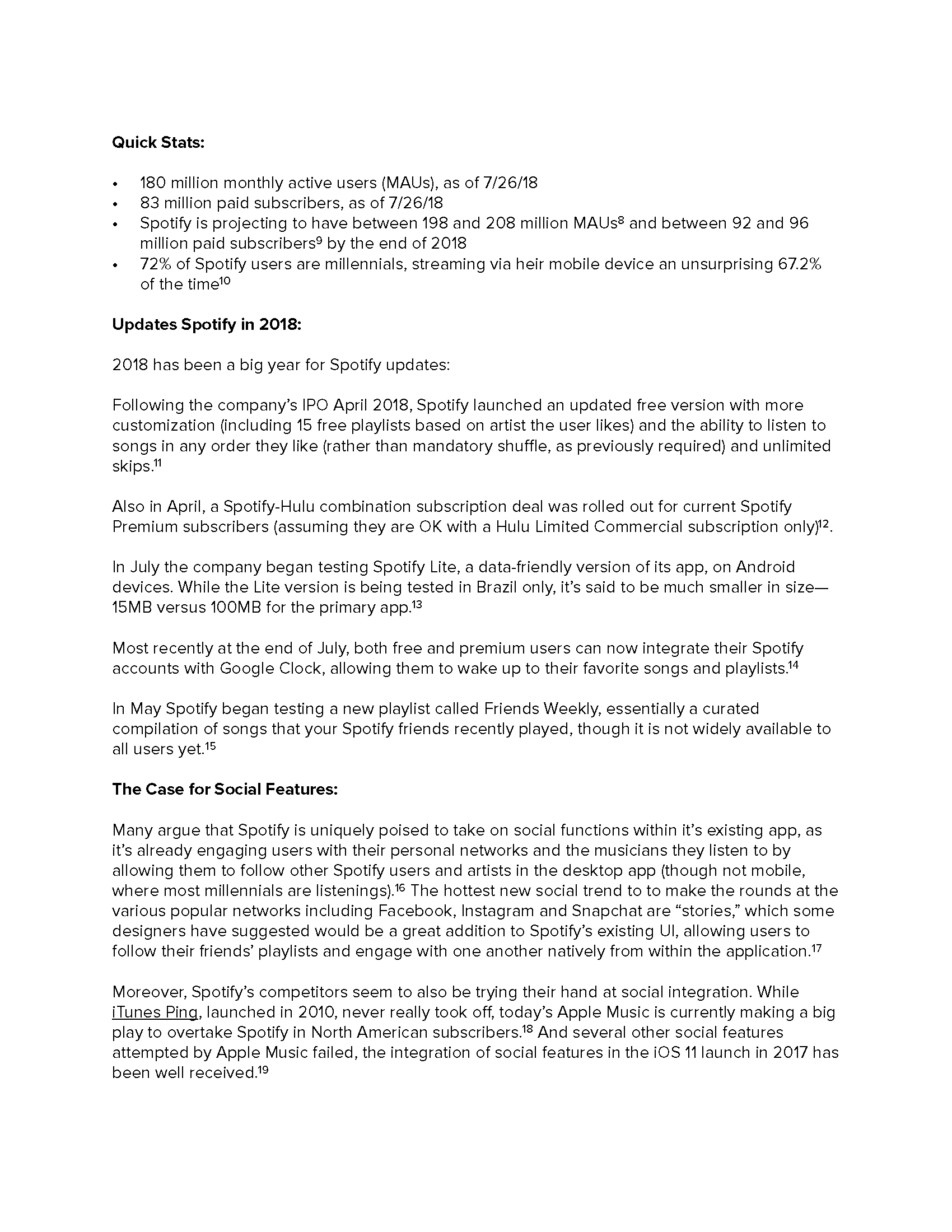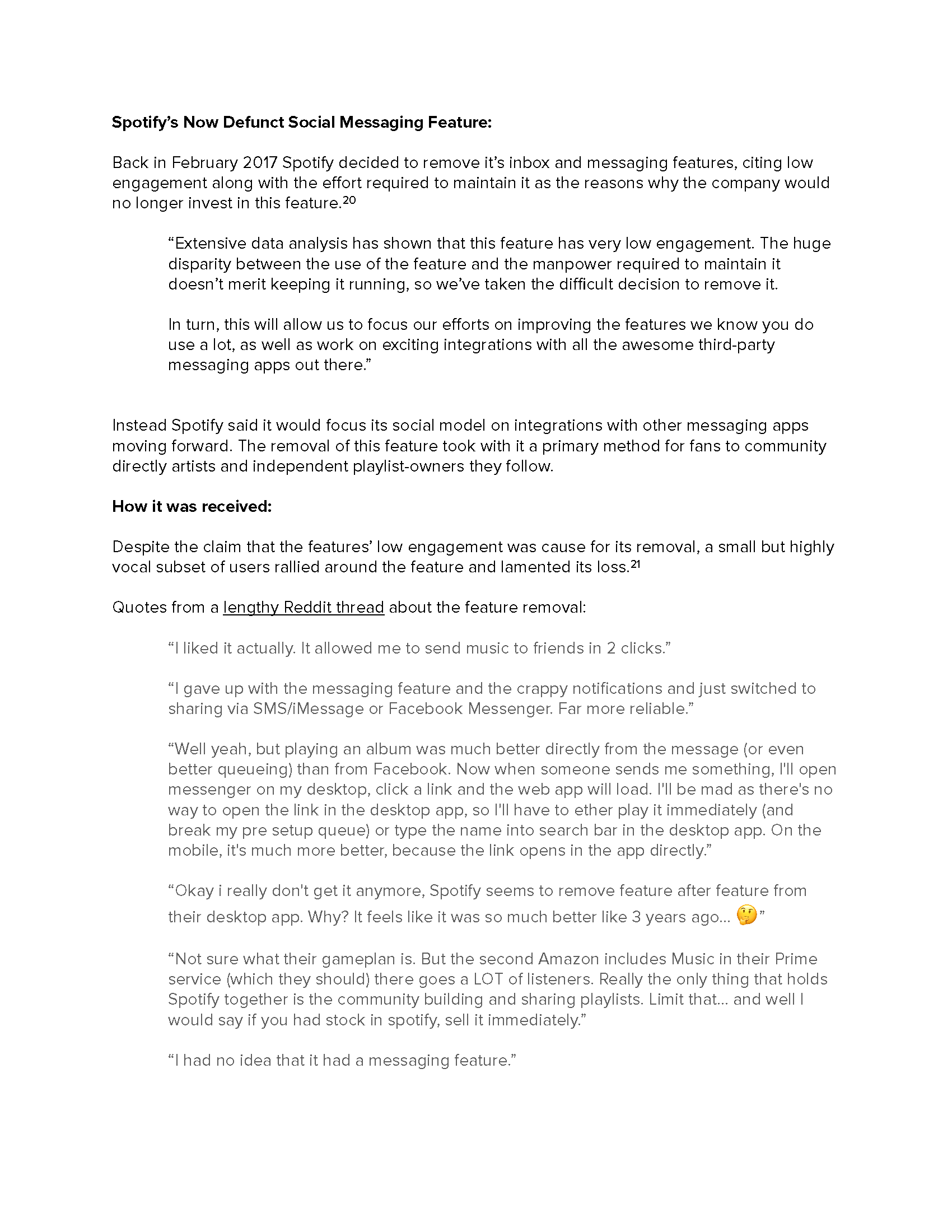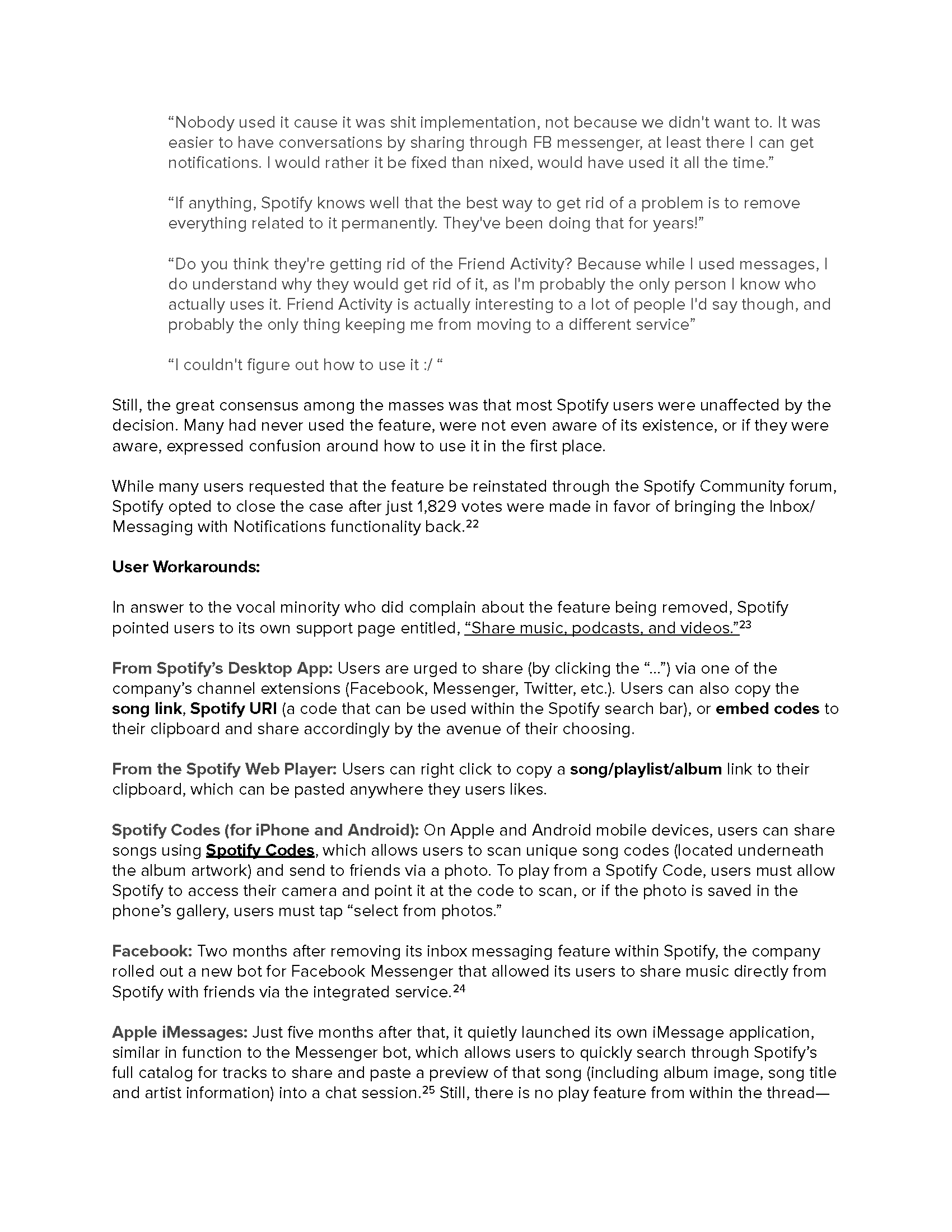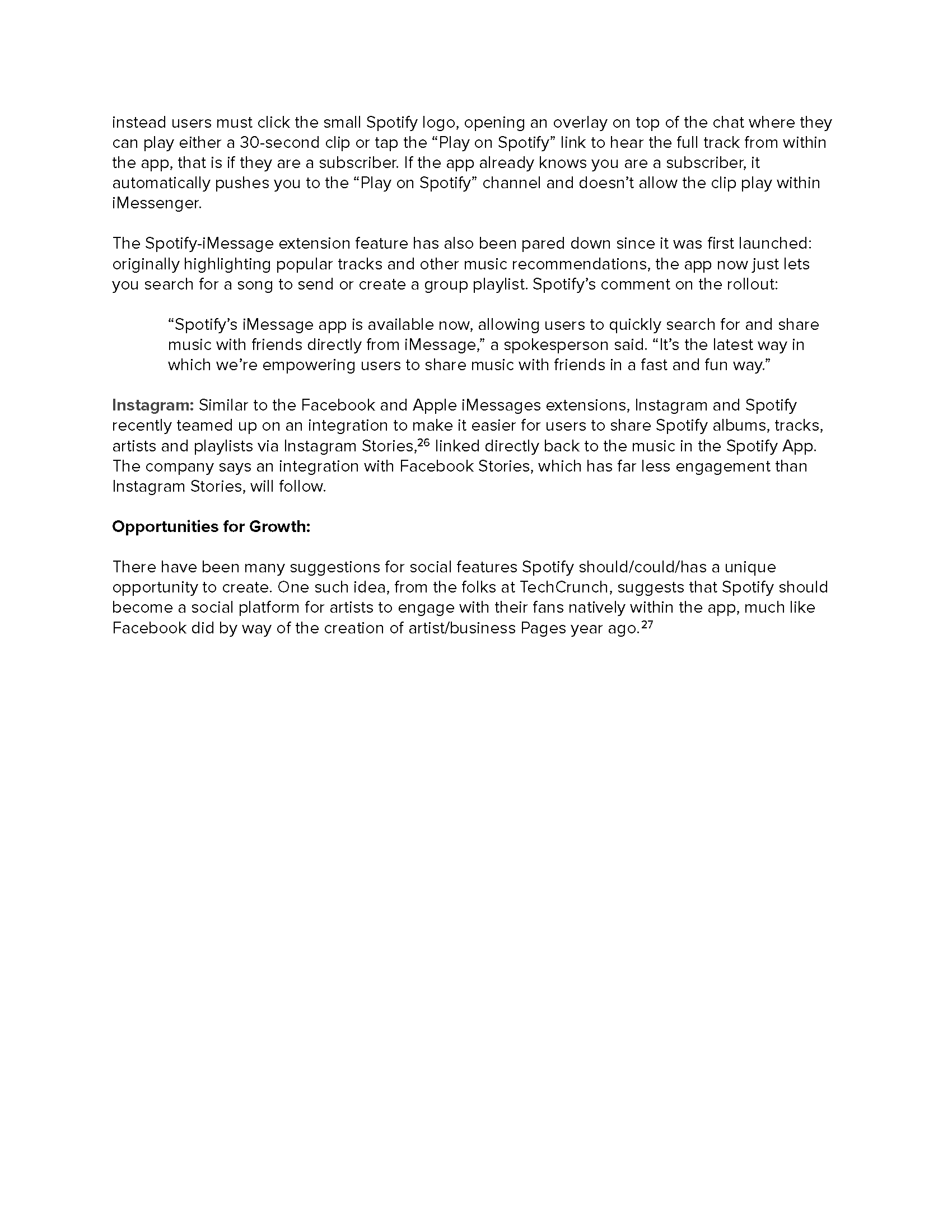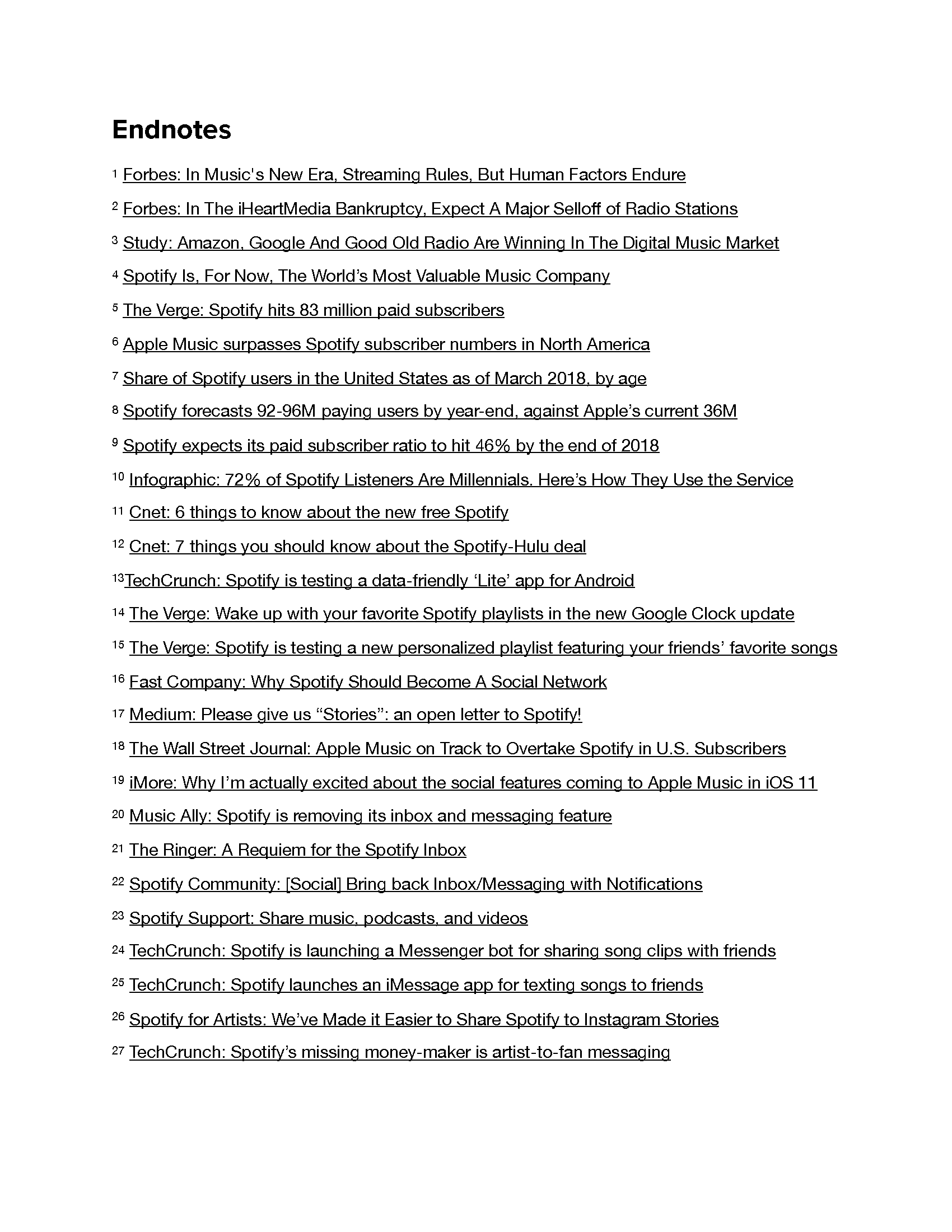 While Spotify leads the streaming music industry in terms of features, number of users (particularly paid users) and accessibility, competitors such as Apple Music, Amazon Music, Google Play and Tidal are fast working to overtake them in catalogue variety and quality. If Spotify hopes to maintain its position at the top of the market, it will have to work on distinguishing itself where it's already shining—in the variety, ease of use and delight provided by its growing features suite.
​​​​​​​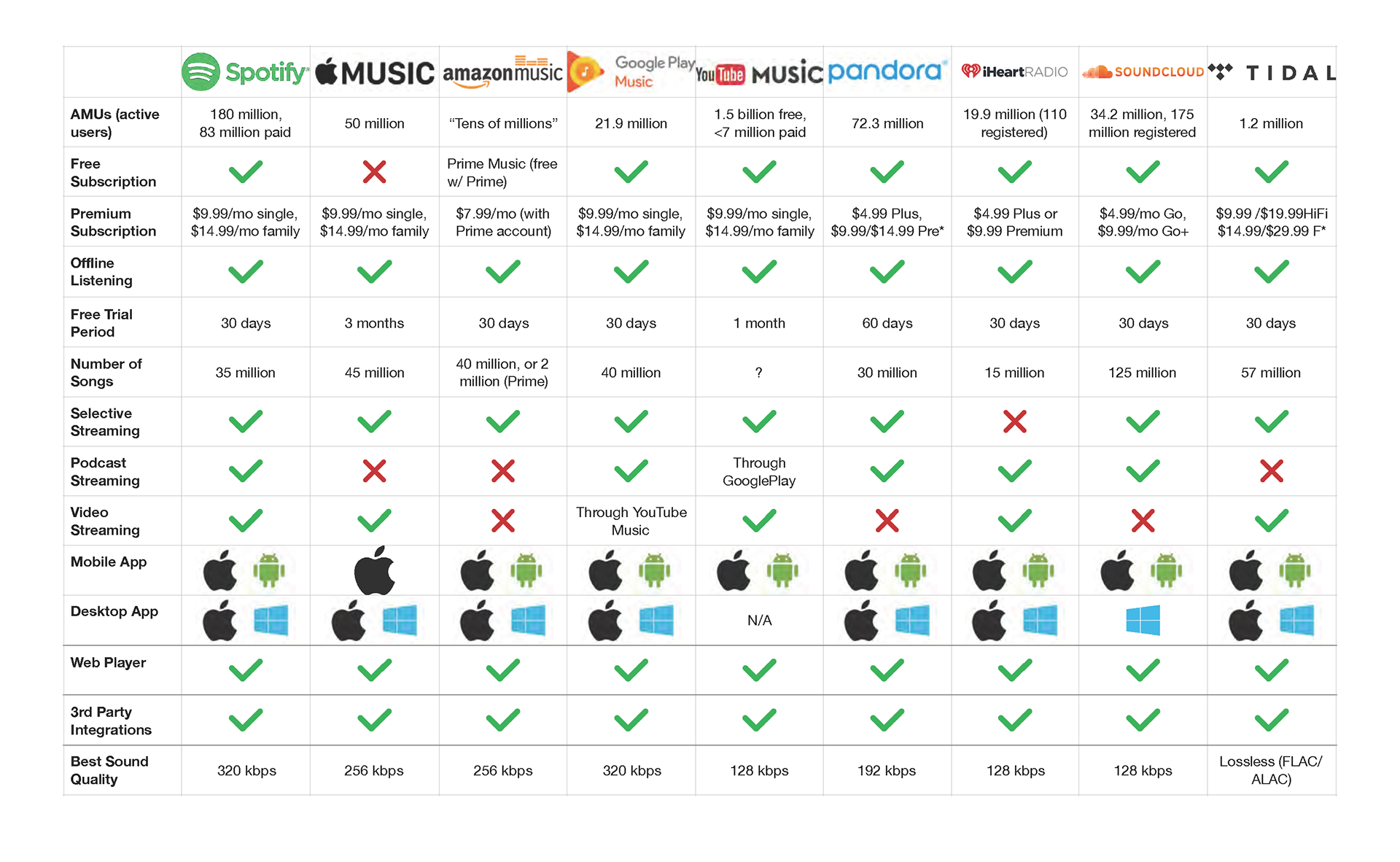 Guided by my secondary research, I created a set of three provisional personas for Spotify's new social feature. This allowed me to begin thinking about the varied social capability needs of its users and how to best solve for their problems. From this perspective I was able to define and prioritize users' needs: first and foremost Spotify's users desire to feel engaged and connected with music in a personal way. Once that baseline is met, it's followed closely by the need for intuitive and simple ways to track, manage and share that music. 
​​​​​​​
app audit
In order to understand the existing app's full functionality and allow seamless integration of the new feature, I completed an audit of the existing iOS application, mapping out the primary flows, especially concerning social features (playlist browsing, creation, and various avenues for sharing). 
​​​​​​​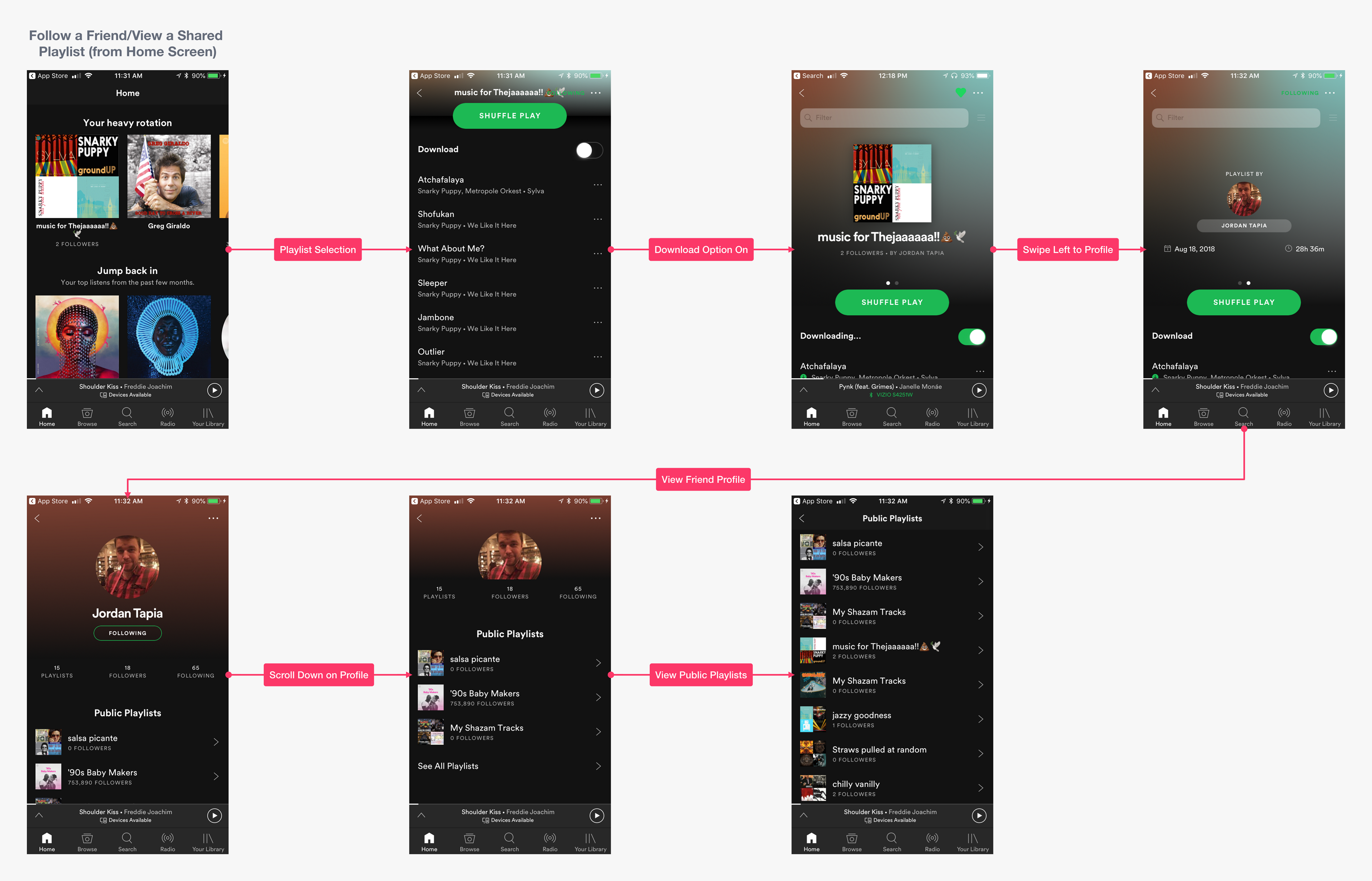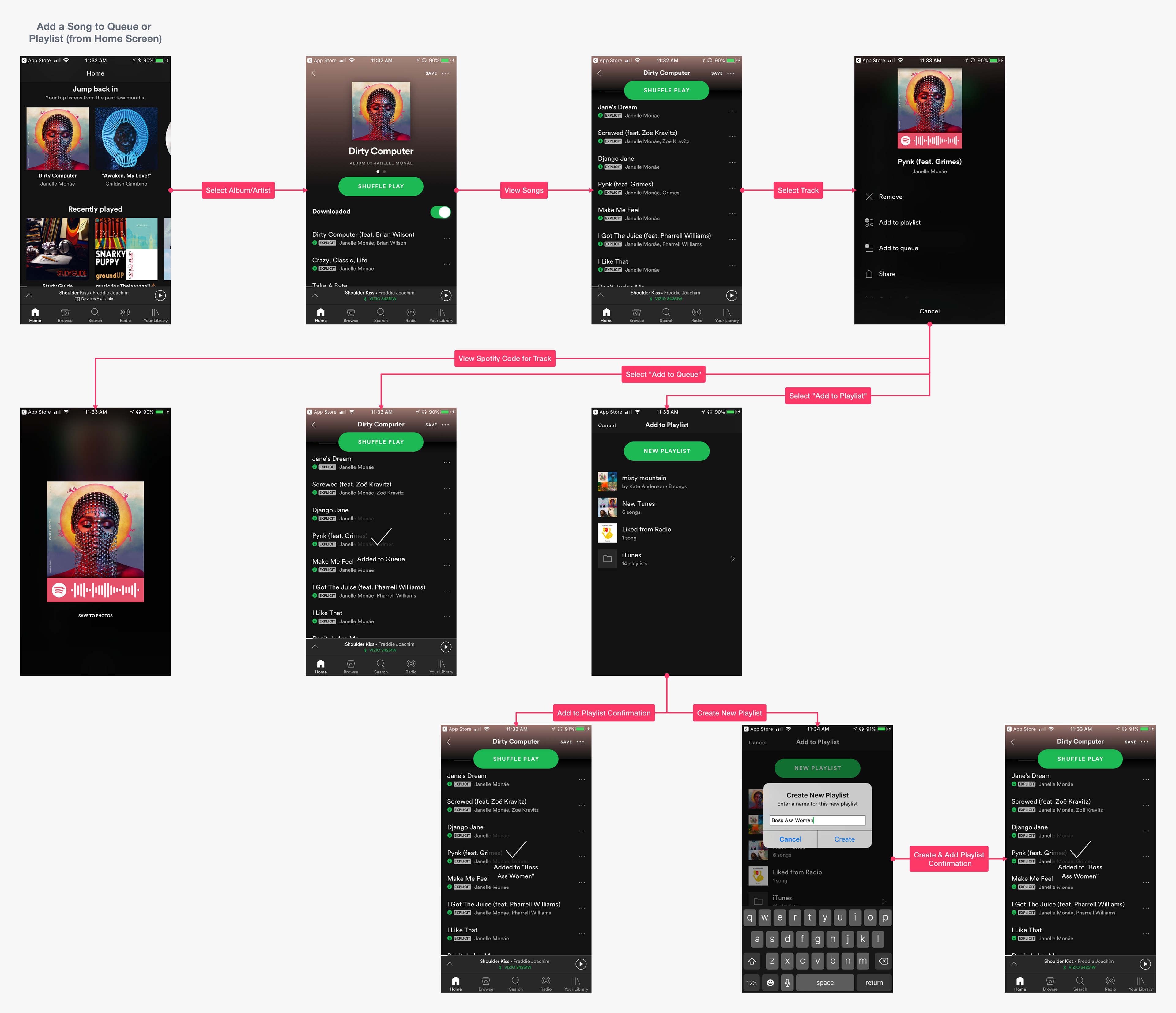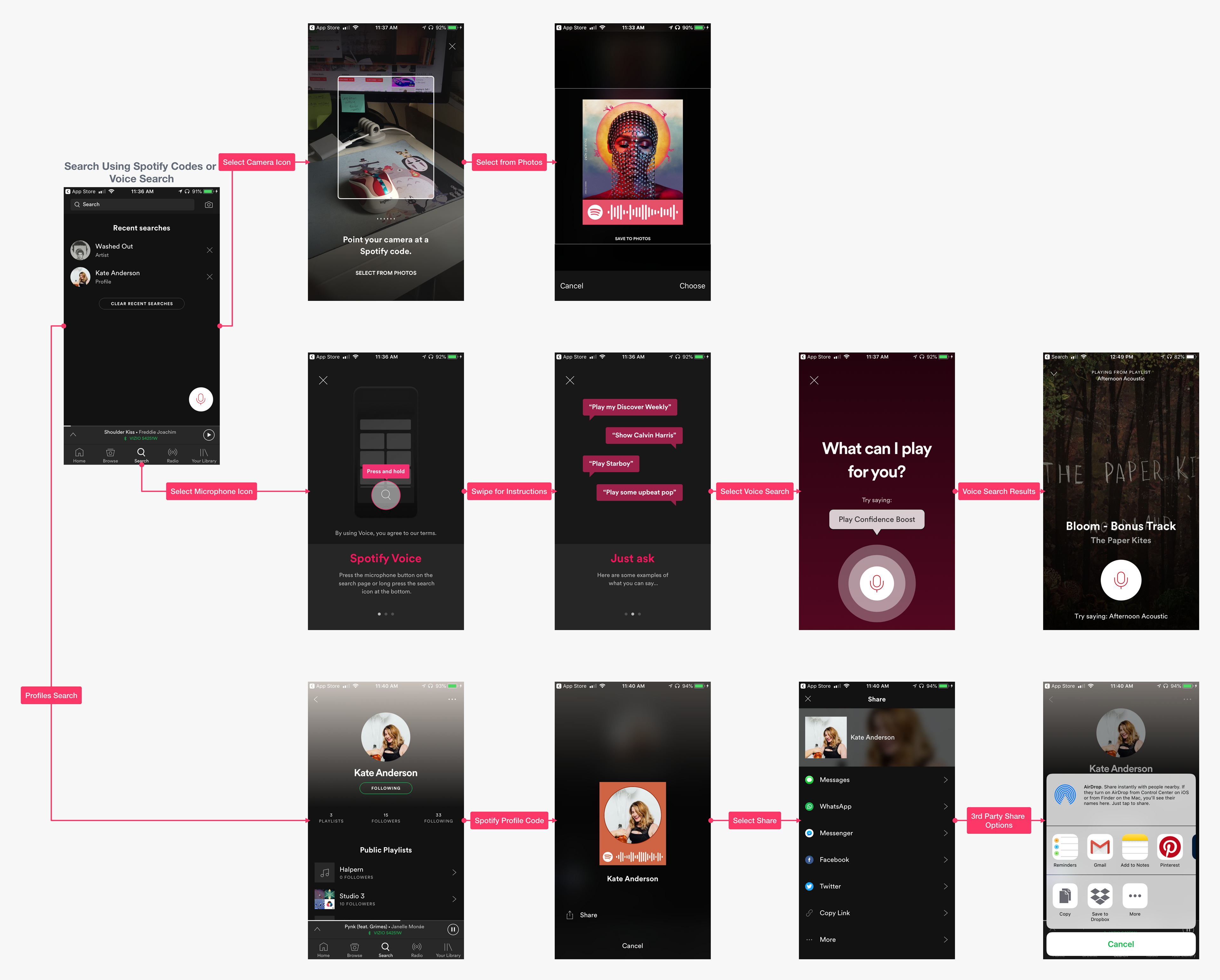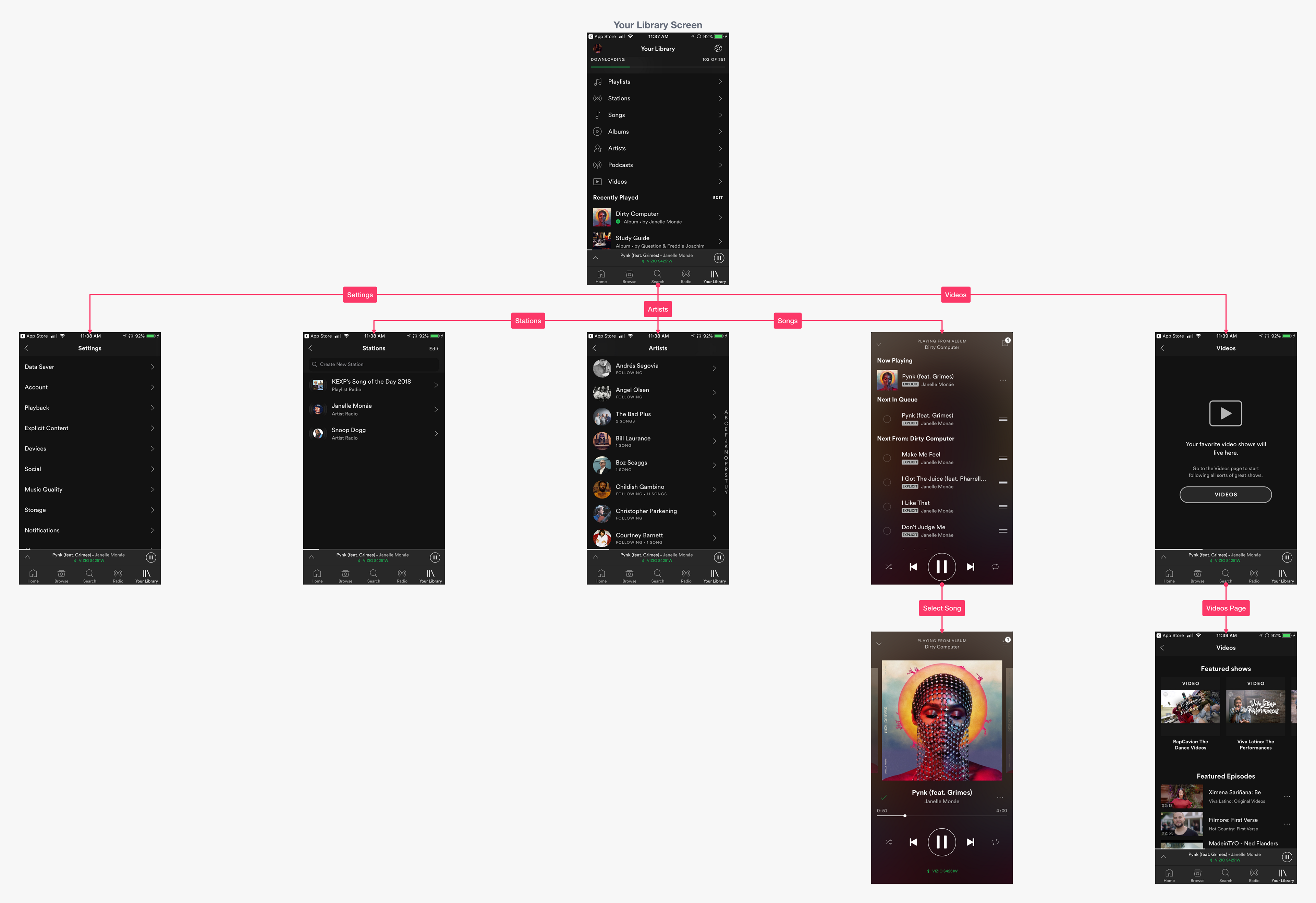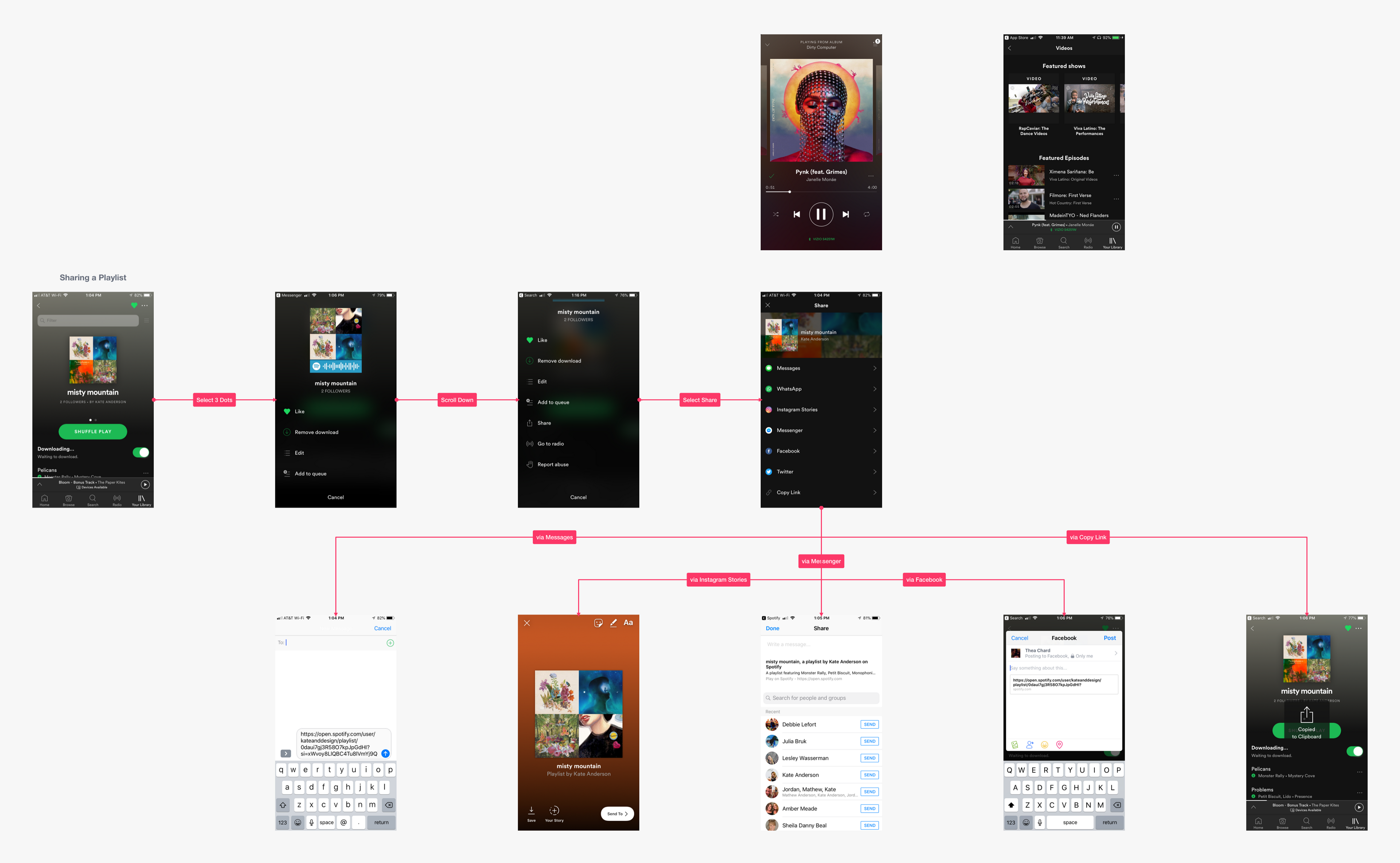 interviews & contextual inquiry
One-on-one interviews were conducted with seven existing Spotify users (four men, and three women). Four of these interviews were done in person and one via Skype utilizing screen share, giving me the opportunity to also conduct some contextual inquiry and observe the users actually using the app. Two interviews were conducted over the phone.
Most interviewees, despite being daily music consumers and Spotify app users, were not aware of its former in-app messaging feature and complained that they were unable to keep up with the app's constant feature additions, removals and updates. Furthermore, most interviewees expressed a growing disinterest in social media at large, as well as greater social capabilities within the app. 
"I've been trying to avoid social media."
In fact, what stood out among users was a need for easier ways to find, manage and share music in a way that required minimal time and effort. Only three out of the seven interviewees regularly put in the effort required to actively curate their playlists to their liking, and even then, expressed a desire for an easier and more hands-off solution. 
"It's a lot of work to build your algorithm in Spotify'—it's kind of like building sandwiches. There's a large investment cost in buying ingredients, but once you do you can make sandwiches for days." 
"I like to be really passive in my music consumption."
"I like very low maintenance."
"I just didn't want to spend as much time as I was sampling new music—that's a lot of work, searching for new music." 
When it came to sharing, most interviewees most often shared music in-person or on a one-on-one basis, and preferred "lurking" (aka seeing what other users liked or were listening to) to actively sharing their own listening habits. And while most interviewees most often discovered new music through direct friends and acquaintances, they shared similar anxiety around the difficulties of curating music in social situations with others. 
"I want to not have to monitor what we're listening to too much."
"If somebody asks me to put on music it's the worst task anyone could ask me to do. I'm so indecisive and lazy about music, even when I'm by myself."
Definition, Ideation & Strategy
deliverables: research findings, empathy map, user persona
empathy map
After compiling all of my notes from my user interview and contextual inquiries, I began synthesizing the data in order to explore the personas presented during the research phase more thoroughly. 
I started by creating an empathy map, compiling the key insights from the user interviews and contextual inquiries. I looked for patterns among the users and began to categorize them into three primary personas, allowing me to further dig into their most potent thoughts/feelings, motivations and actions. 
Working from this I was able to distill the data down to four key insights and the corresponding user need associated with each.
​​​​​​​
• ​​​​​​​Users want an intuitive, low-maintenance way to build and curate music playlists
• ​​​​​​​Users do not want to spend a lot of time and energy managing their music
• ​​​​​​​Users would like to share music with only specific people versus their entire social network
• ​​​​​​​Users are frustrated by device inconsistencies, and constant feature changes
• ​​​​​​​Users need a low-maintenance way to curate music playlists
• ​​​​​​​Users need to be able to manage their own music quickly and efficiently 
• ​​​​​​​Users need greater control over when and who they share their music with
• ​​​​​​​Users need consistent features across devices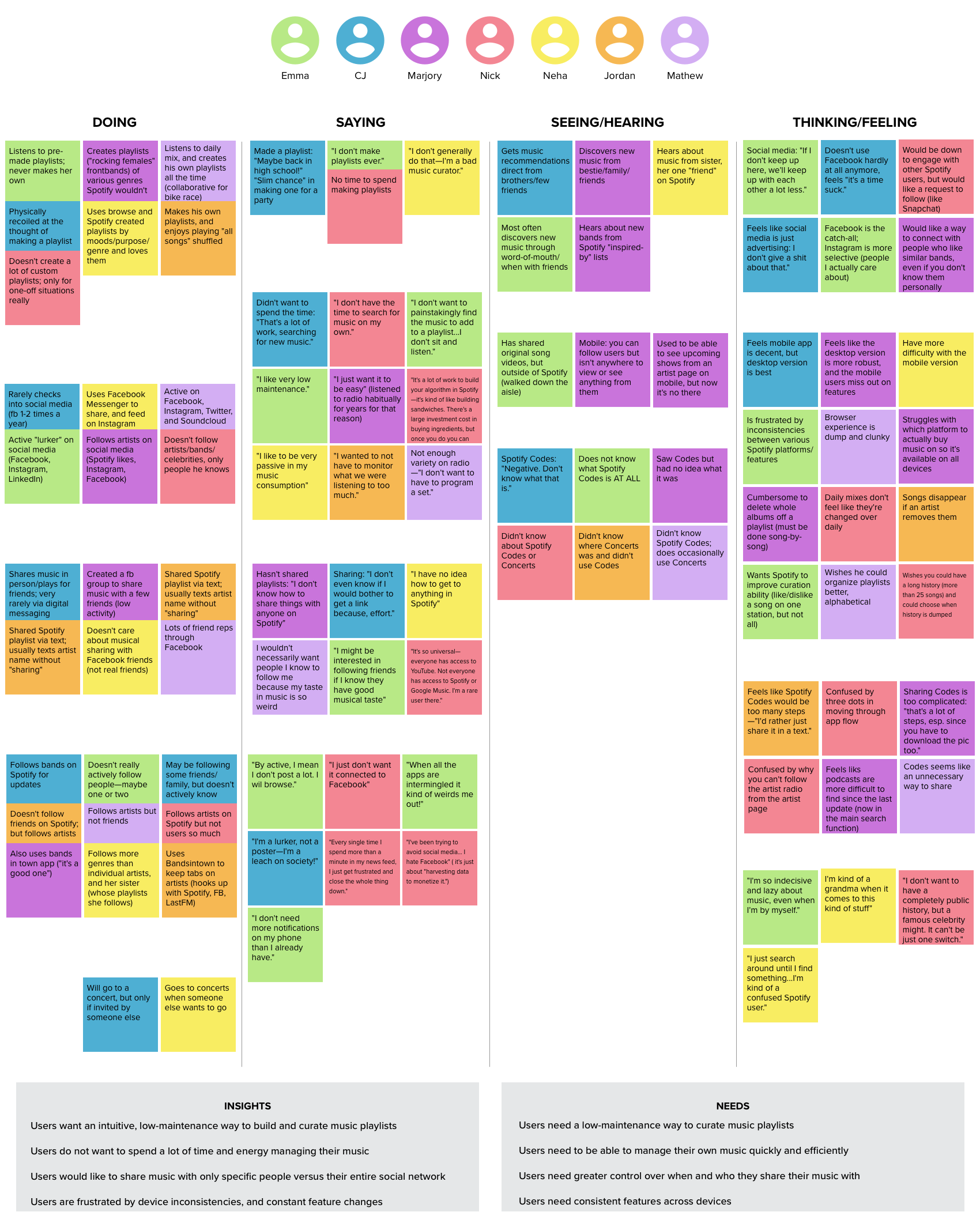 user persona
As I began to explore the similarities among the three working personas, it quickly became clear that they each shared one primary underlying motivation—the need for a more intuitive and efficient way to bridge the gap between word-of-mouth music recommendations from friends and actual playlist generation within Spotify. 
And thus, in keeping with the scope of the project, a primary user persona—Joe Earnest, "The Young Professional"—was born.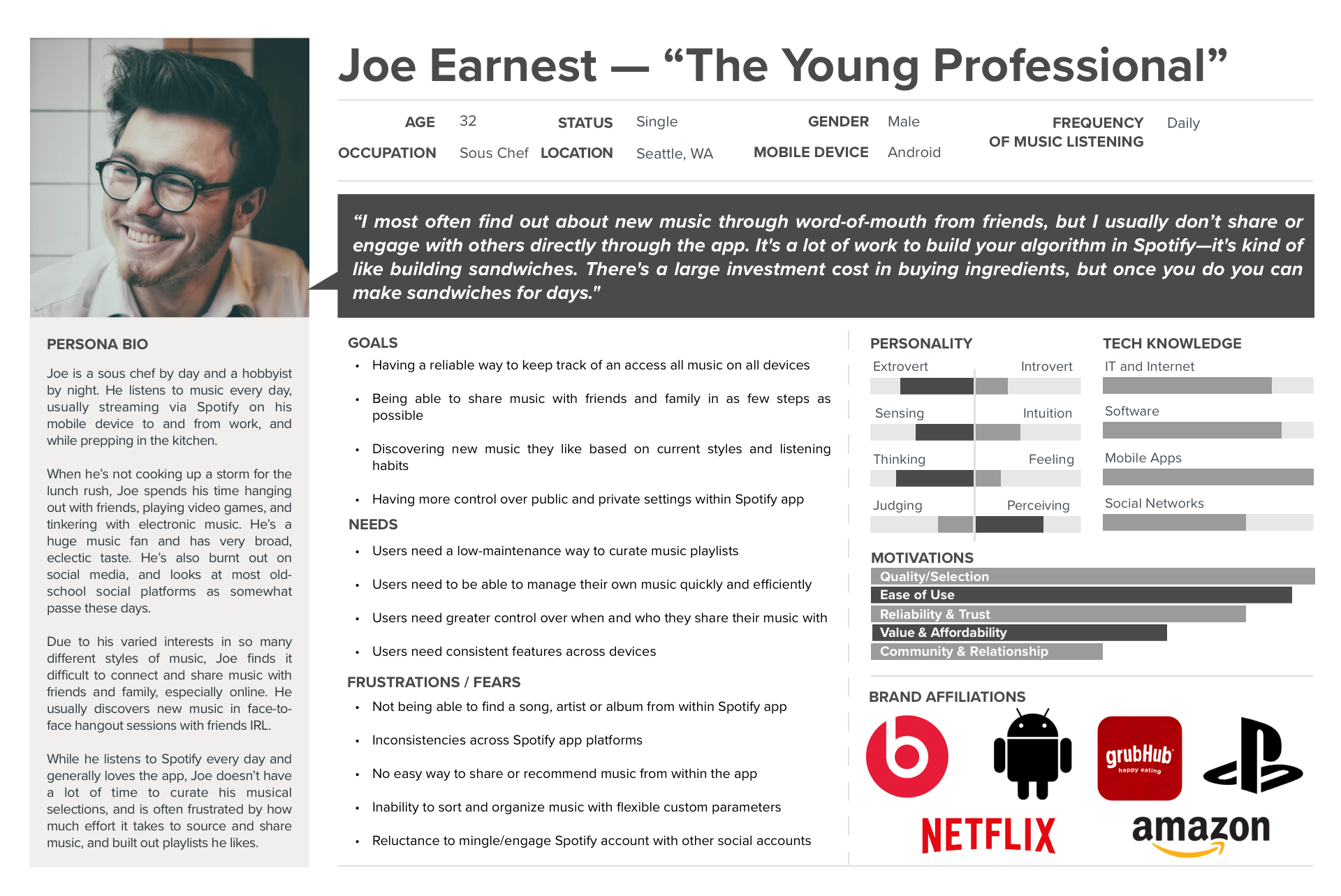 deliverables: storyboard, POV statements & HMW questions, group brainstorming
Once Joe was established as our primary user persona, the next step was to jump into a bit of ideation in order to flush out the crux of his goals, needs, and any fears or frustrations that might pop up along the way to solving for his problem.​​​​​​​
storyboard
In an exercise in rapid storyboarding and based on the observations gleaned from the contextual inquiry, I took 30 minutes to map out the common touch points and frustrations Joe and other users like him might face in trying to figure out how to share a song or playlist from the Spotify mobile app.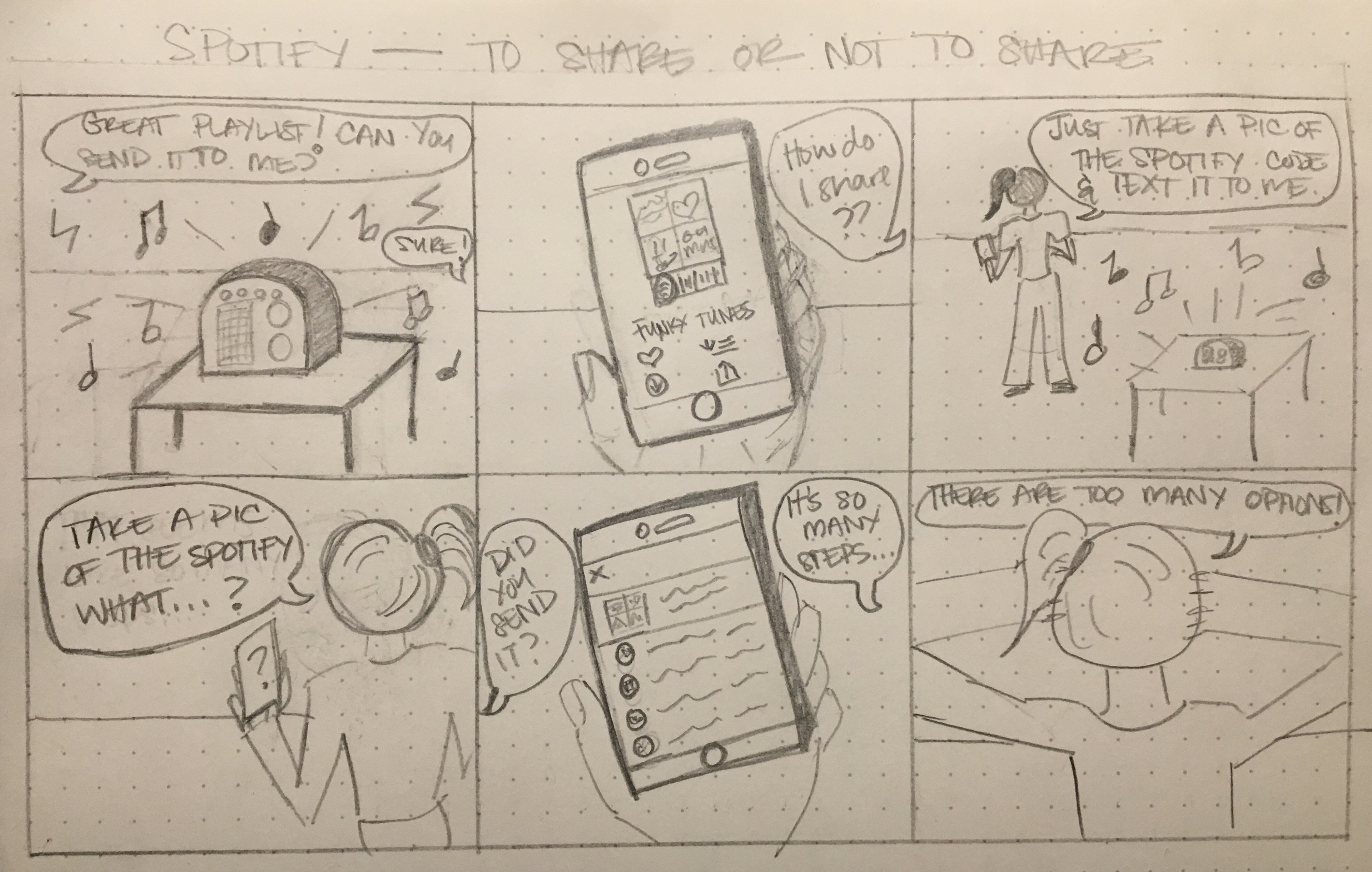 POV statements & HMW questions
In order to best prepare to approach solving the problem with the user in mind, I took the insights and needs distilled from the empathy map and user person to flush out a series of Point of View questions and How Might We statements.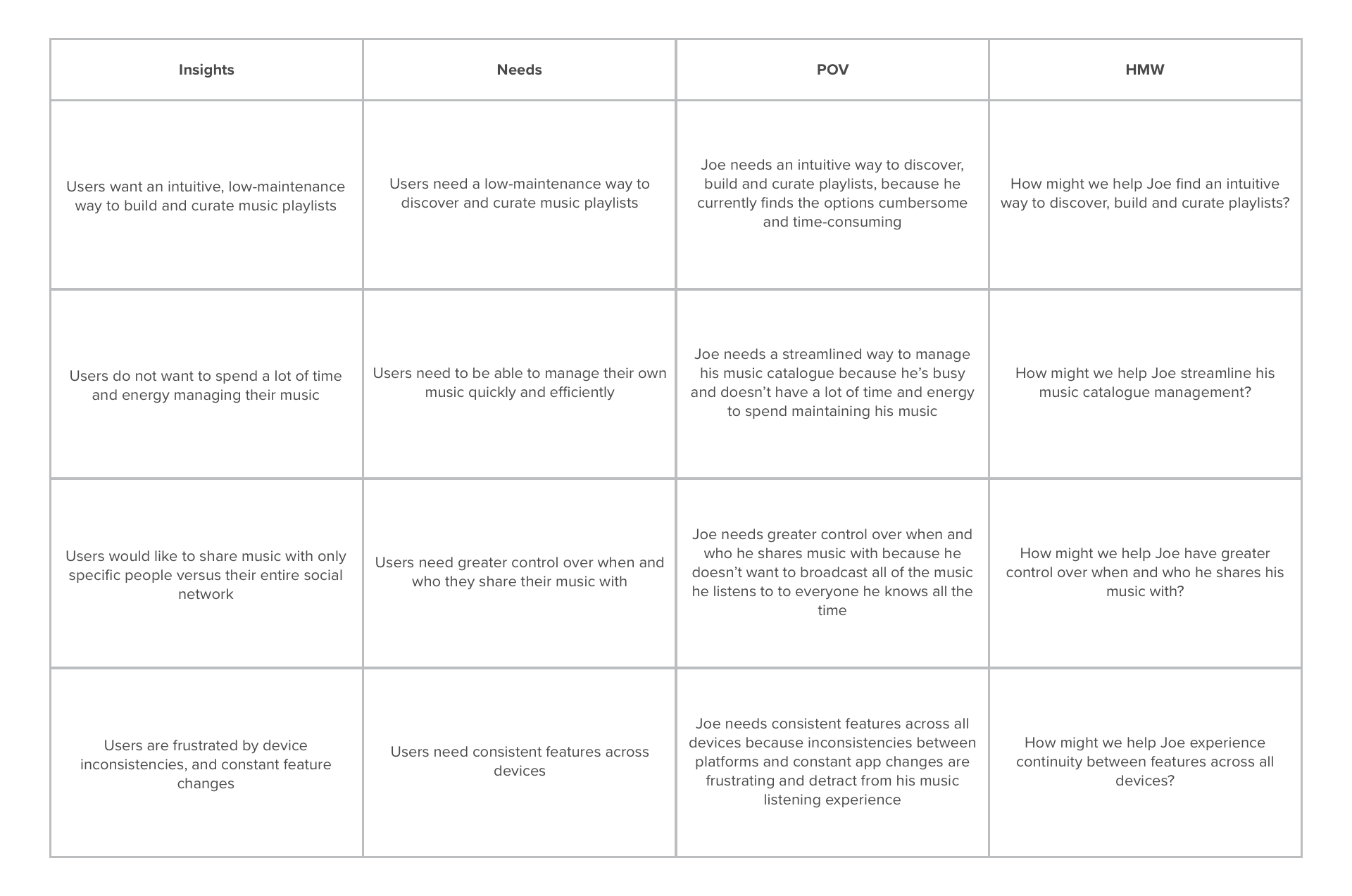 group brainstorming 
By reframing the problem within the context of these HMW questions, I was then able to conduct and guide two group brainstorming sessions, generating a plethora of possible feature solutions to Joe's four primary user needs.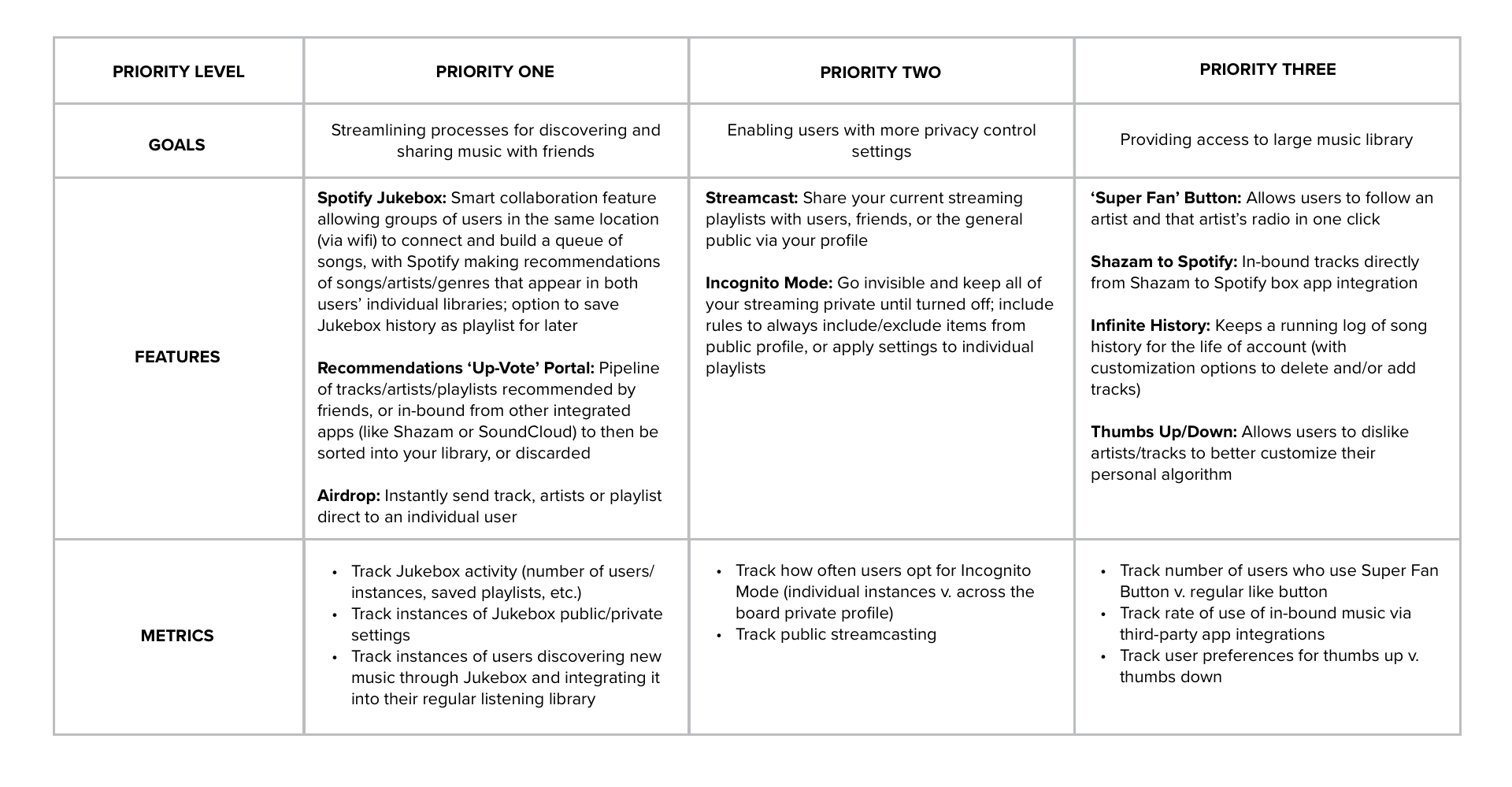 strategy & information architecture
deliverables: business & user goals, product roadmap, sitemap
Next it was time to determine which solutions would be the most effective in solving for Joe's needs, as well as the most viable to build and roll out. In order to do that, I had to zoom back out and look at how these user needs fit within the context of the greater project scope alongside Spotify's business goals and the technical considerations involved.
business & user goals
At this point the three most relevant of the primary user goals were selected and prioritized alongside their corresponding features (gathered from the group brainstorming sessions) and associated metrics in a comprehensive product roadmap.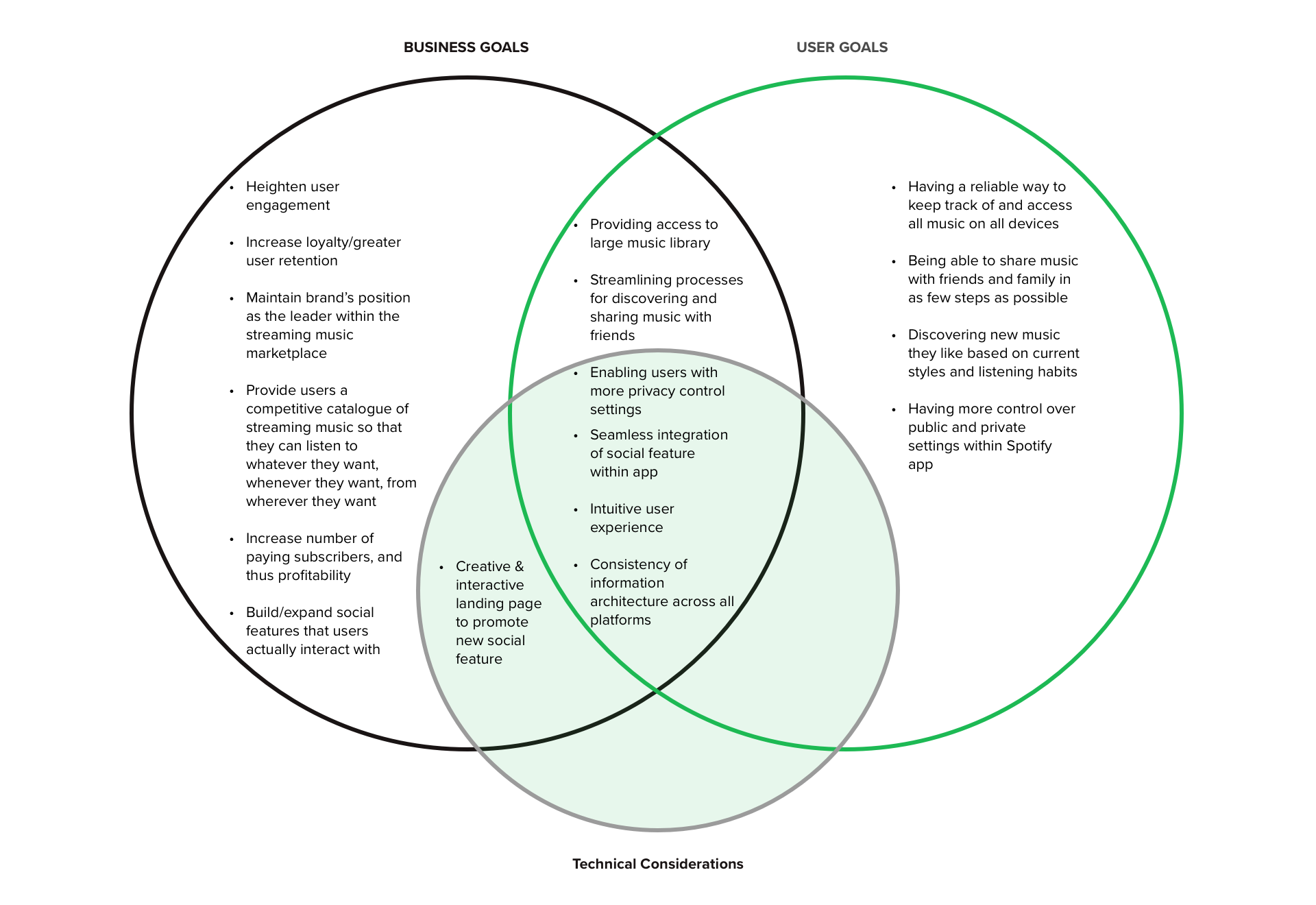 product roadmap
The first stop on the Spotify social capabilities product roadmap would be the creation of a new semi-social feature with all the benefits of person-to-person music sharing and discovery without the high-maintenance cost of time and energy:
Meet Spotify Jukebox—a place to build smart collaborative playlists with friends.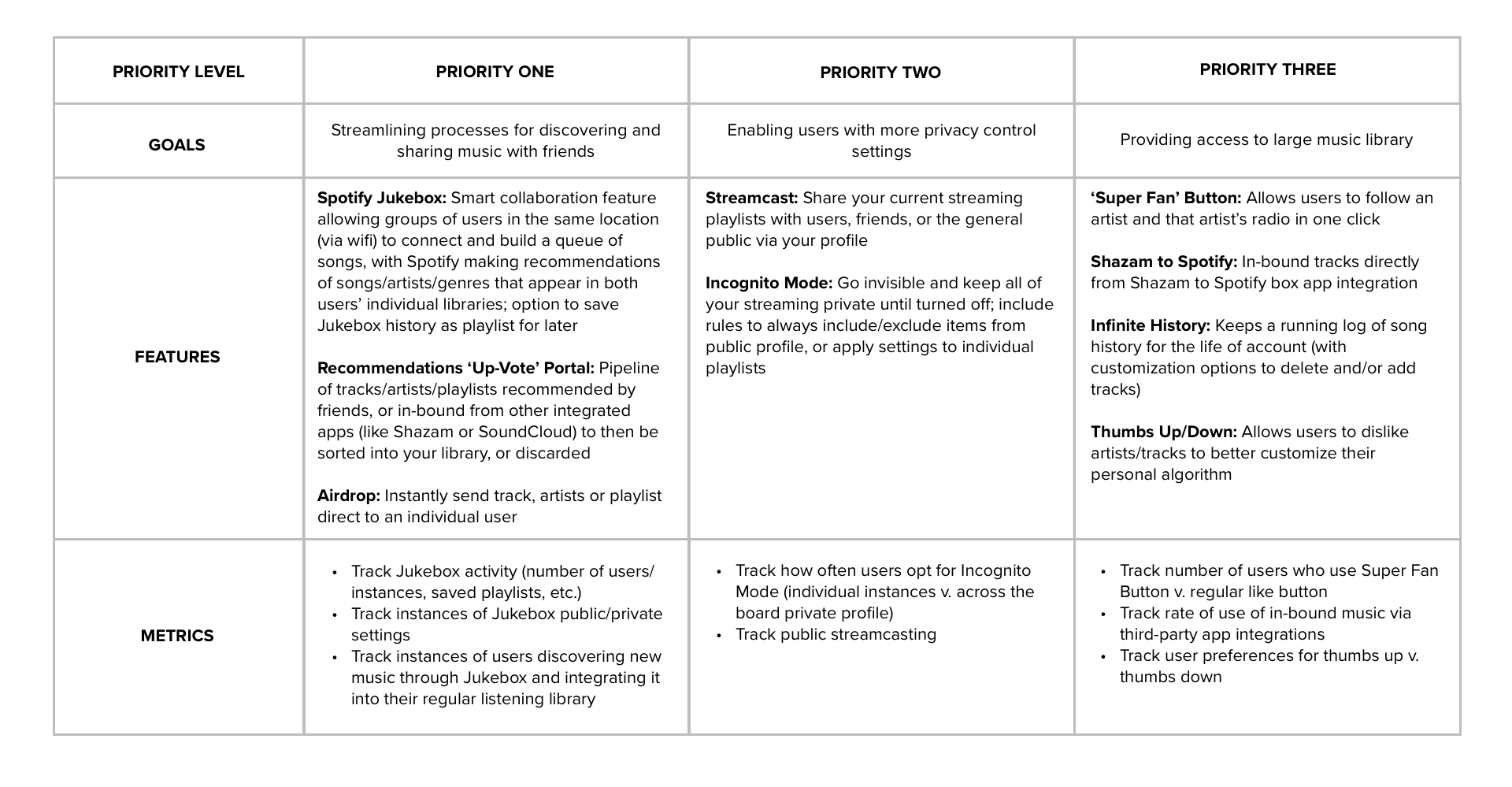 sitemap
Once the Spotify Jukebox feature was selected, I was eager to jump straight into the design phase, however, in order to ensure the feature would be designed to seamlessly integrate into the existing app, I would first have to determine the mobile app's information architecture by building a comprehensive sitemap.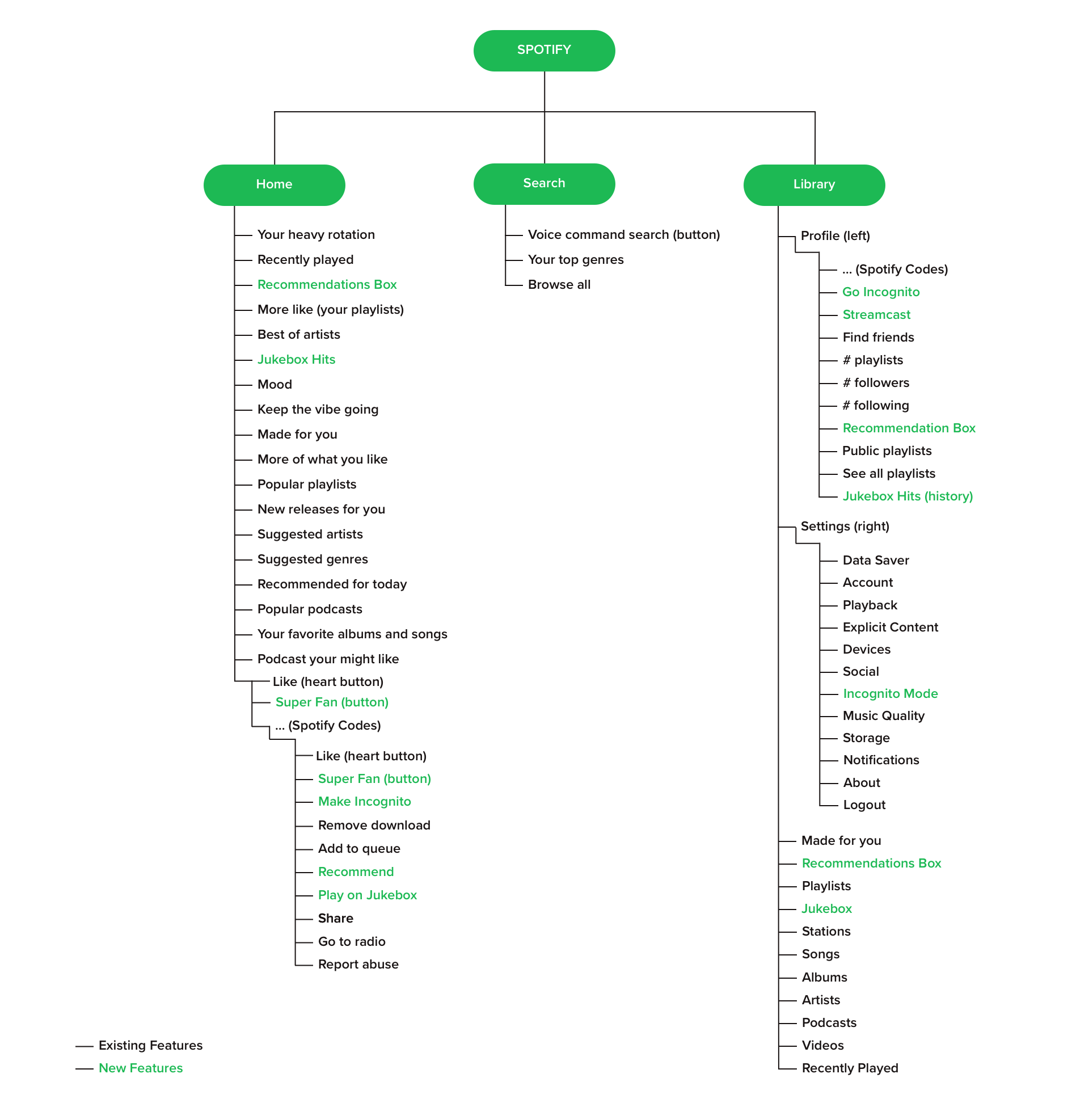 Interaction Design
tools used: pen & paper, Sketch, InVision
deliverables: UI requirements, user flow, low fidelity wireframe sketches
When designing a new feature to fold into an existing app, it's important to design within the original app's style and interaction framework, otherwise the new feature will not seamlessly integrate. 
UI requirements
For this reason, before beginning to rough out ideas for the new Spotify Jukebox feature on my sketch pad, I first took an inventory of all UI requirements, including screens and detailed feature elements I would need to design in order for the user to successfully complete three primary tasks associated with the new Jukebox feature (which I would later test and reiterate on).
user flow diagram
In order to make sure I was designing with the user, Joe, and the existing app infrastructure in mind, I fleshed out a full user flow for the primary task: Use Spotify Jukebox to create a smart collaborative party playlist with a group of friends.
This allowed me to dive even further into Spotify's mobile UI for iOS to ensure the new feature would be designed in keeping with the current design patterns present within the app. Where no existing design pattern existed to be used as a guide, I focused my energy on designing new elements that pulled inspiration from existing patterns in order to best blend in with the current feature set.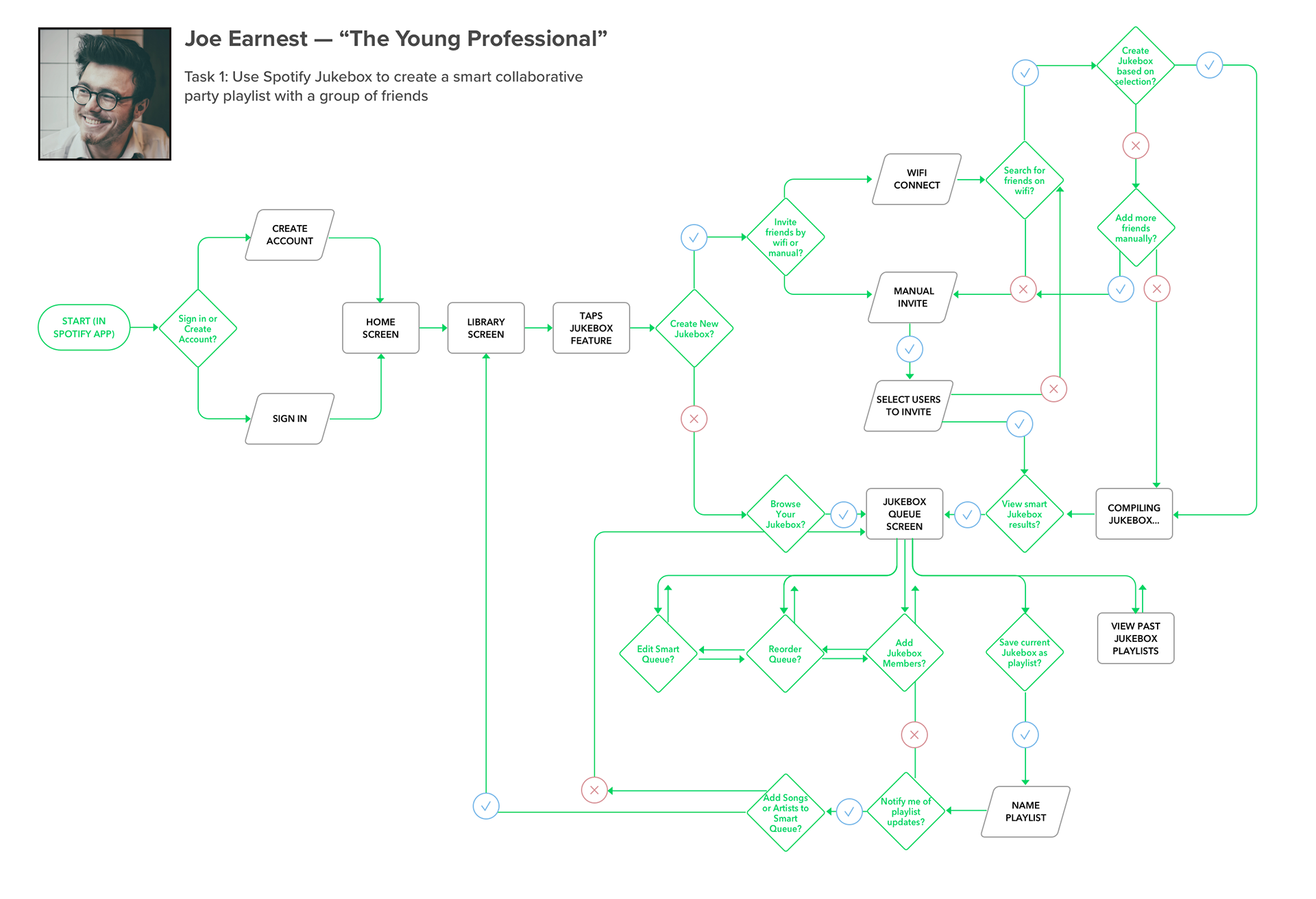 low fidelity wireframe sketches
A first pass with pen and paper allowed me to map out some ideas for the feature's main screens, keeping the primary user flow in mind throughout the entire process.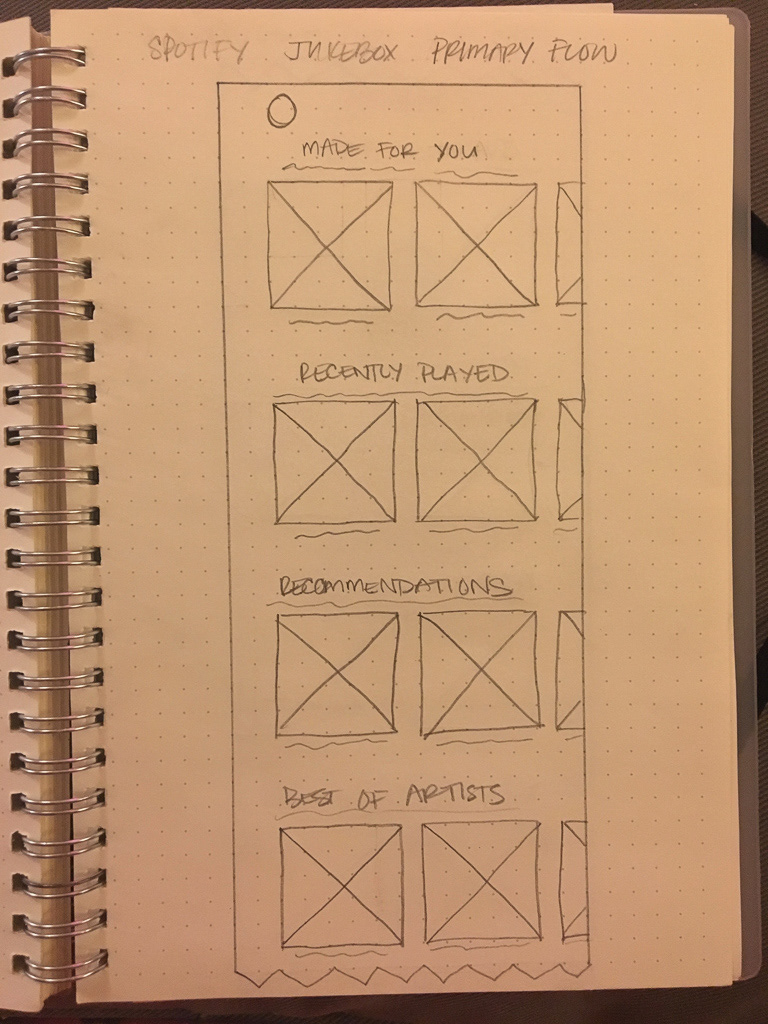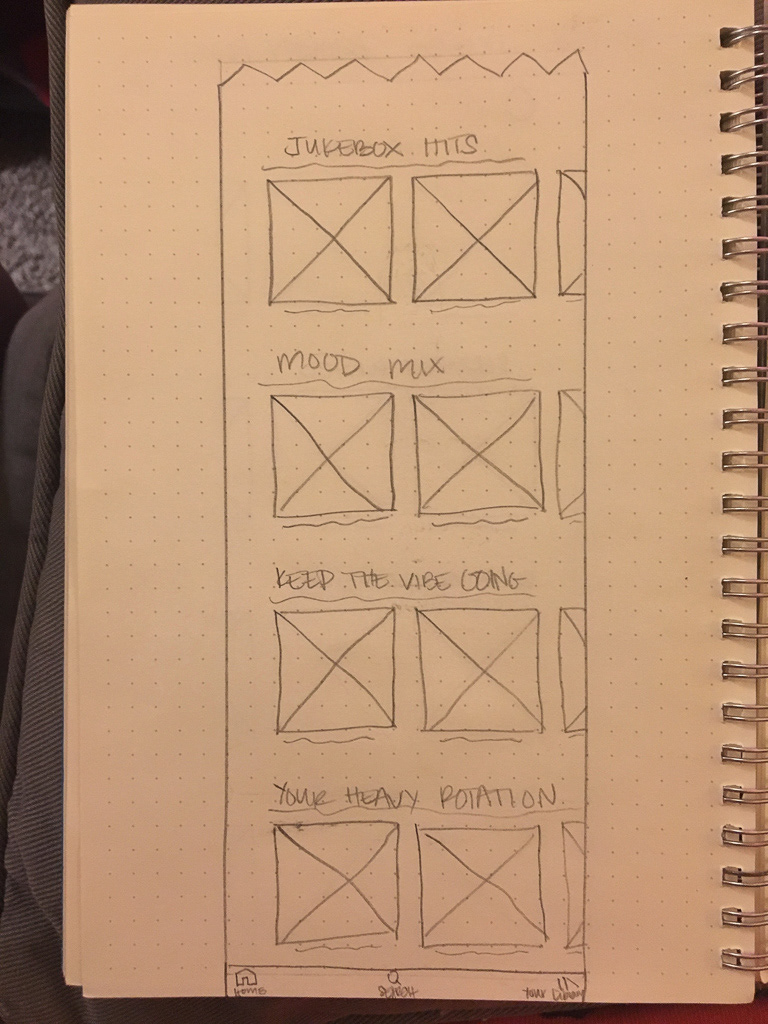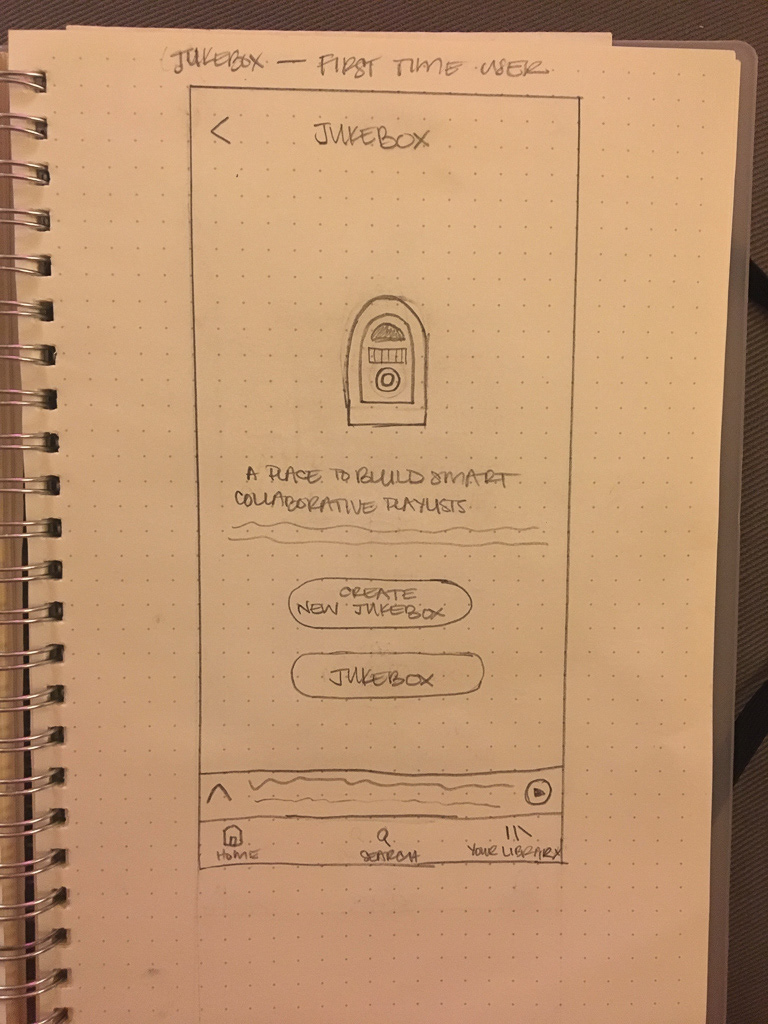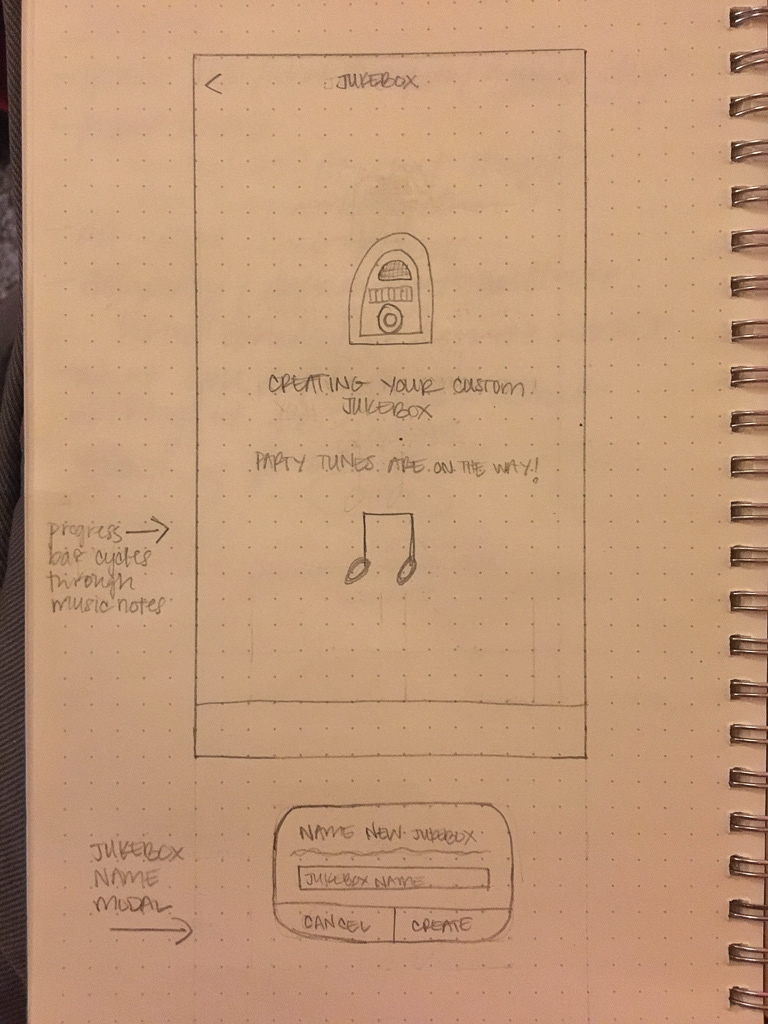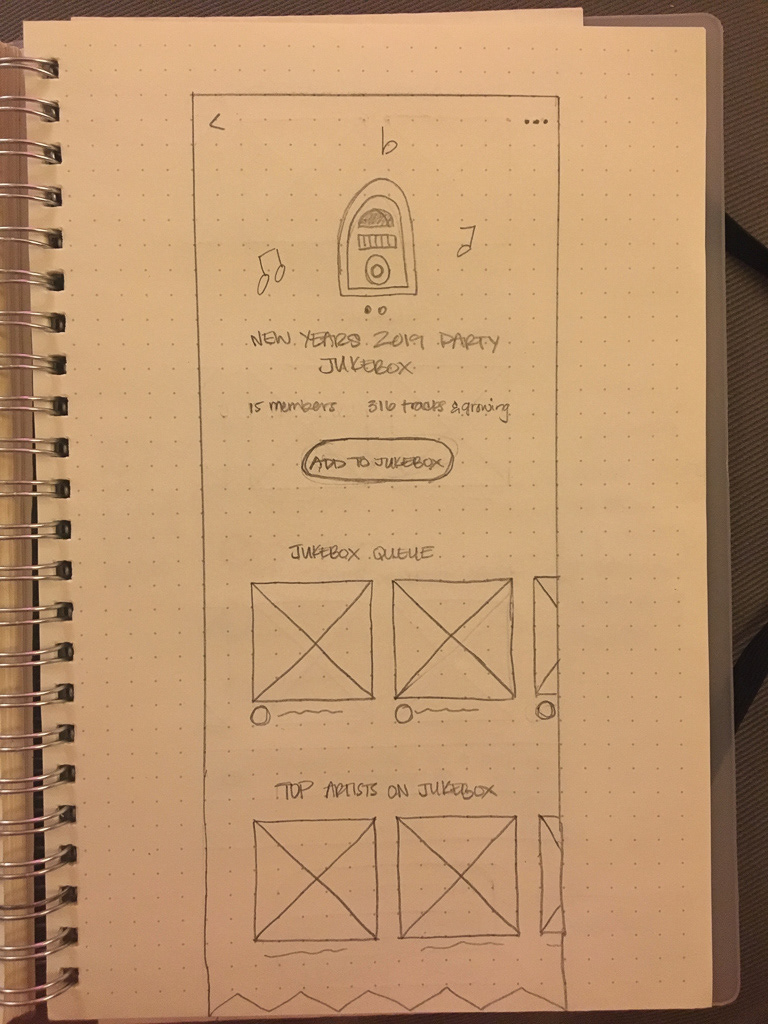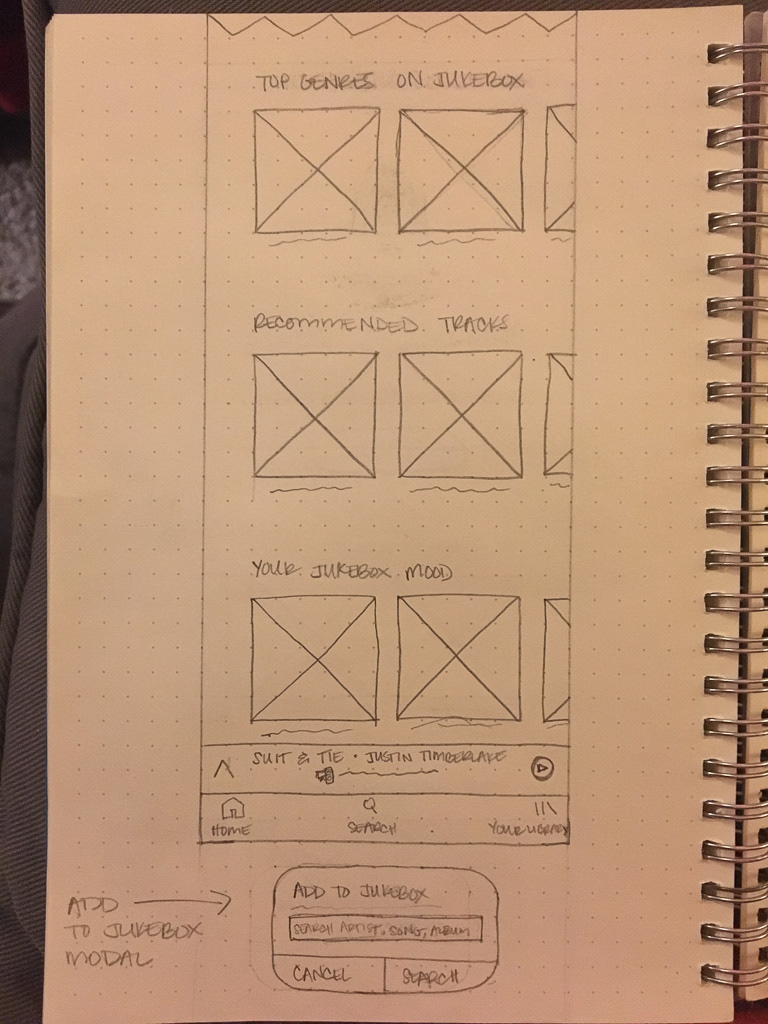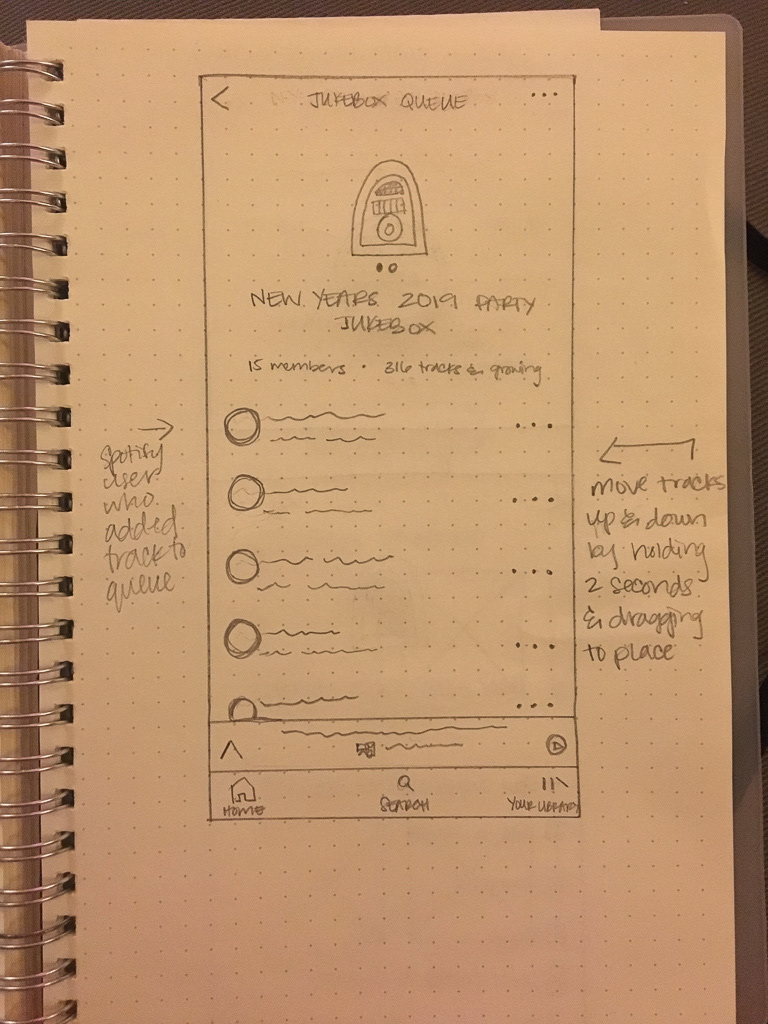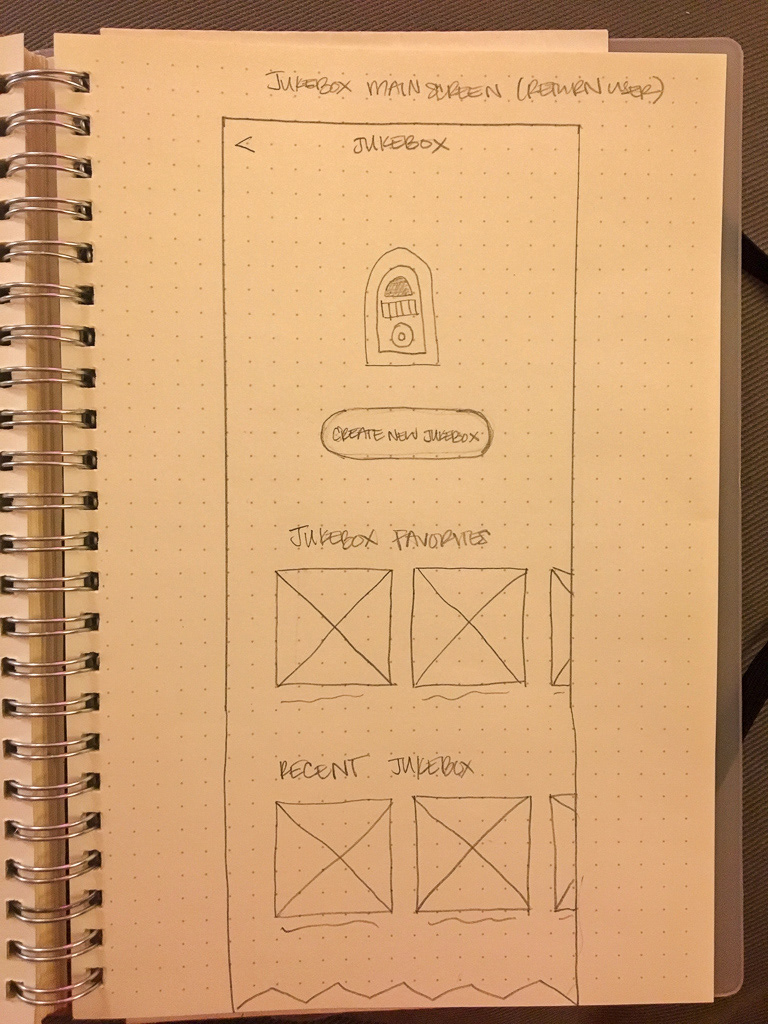 User Interface Design
tools used: pen & paper, Sketch, InVision
deliverables: style tile, UI kit, high fidelity wireframes
When designing for an existing product, it's important to keep to their brand standards—this project is about integrating a social feature into Spotify's mobile platform, not reinventing its UI altogether. Spotify has a solid and clear brand and a comprehensive style guide that served as my reference throughout the design process. ​​​​​​​
style tile & UI kit
In order to ensure any dev team working on Spotify Jukebox in the future had all the tools they needed to successfully execute on my designs, I went about creating a full UI kit ready for hand-off, incorporating both Spotify's existing branding guidelines, as well as any new design elements required for the additional feature set.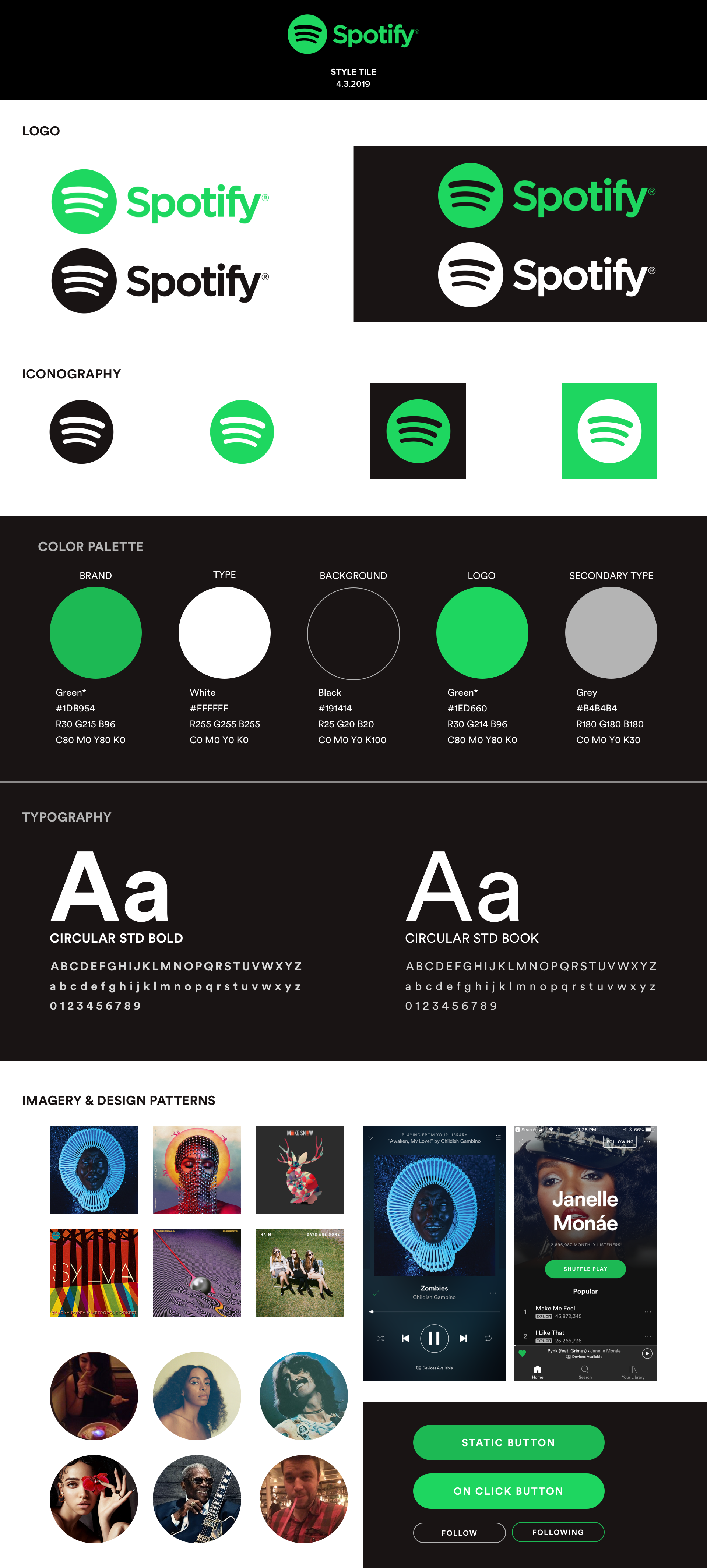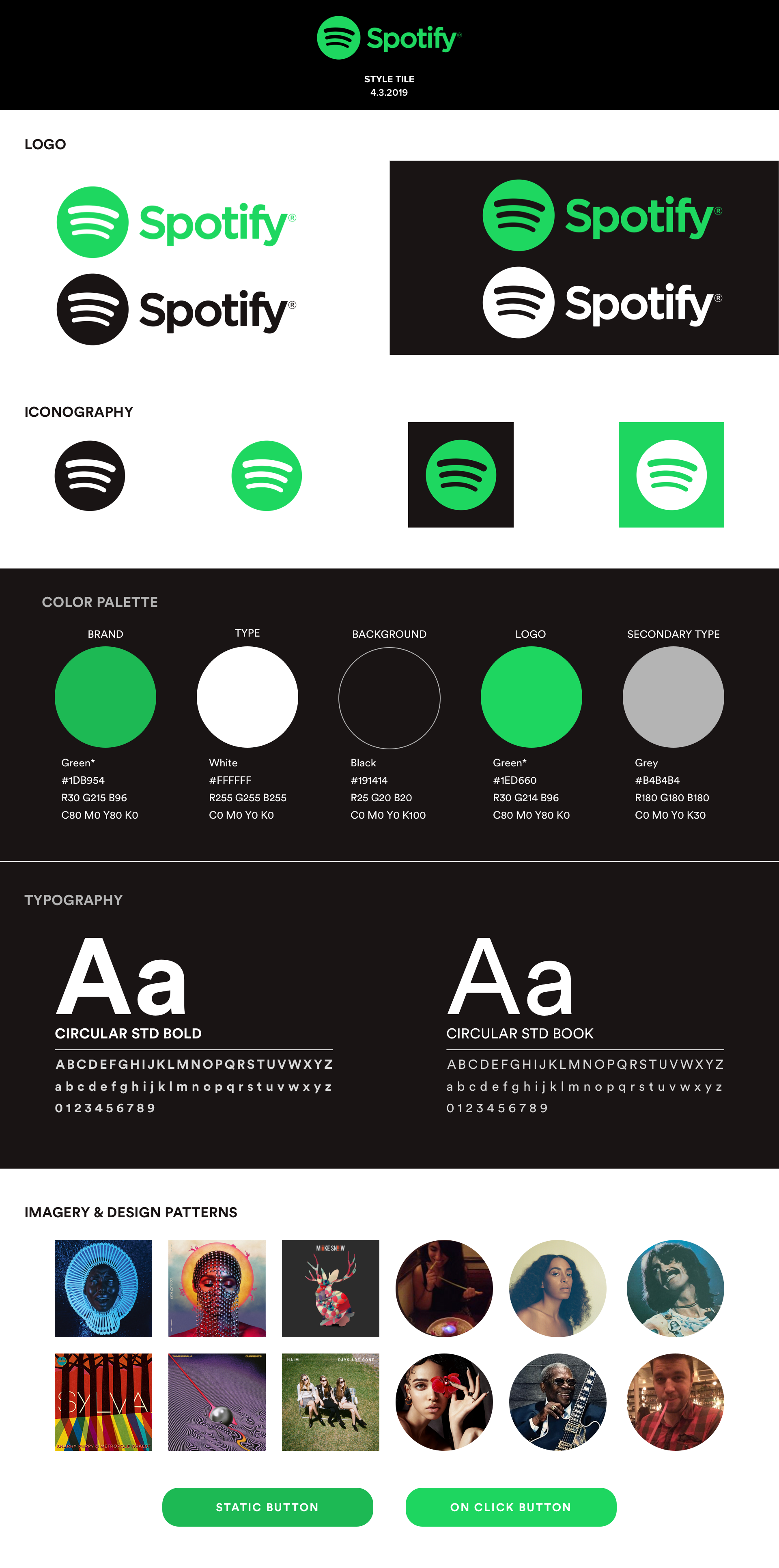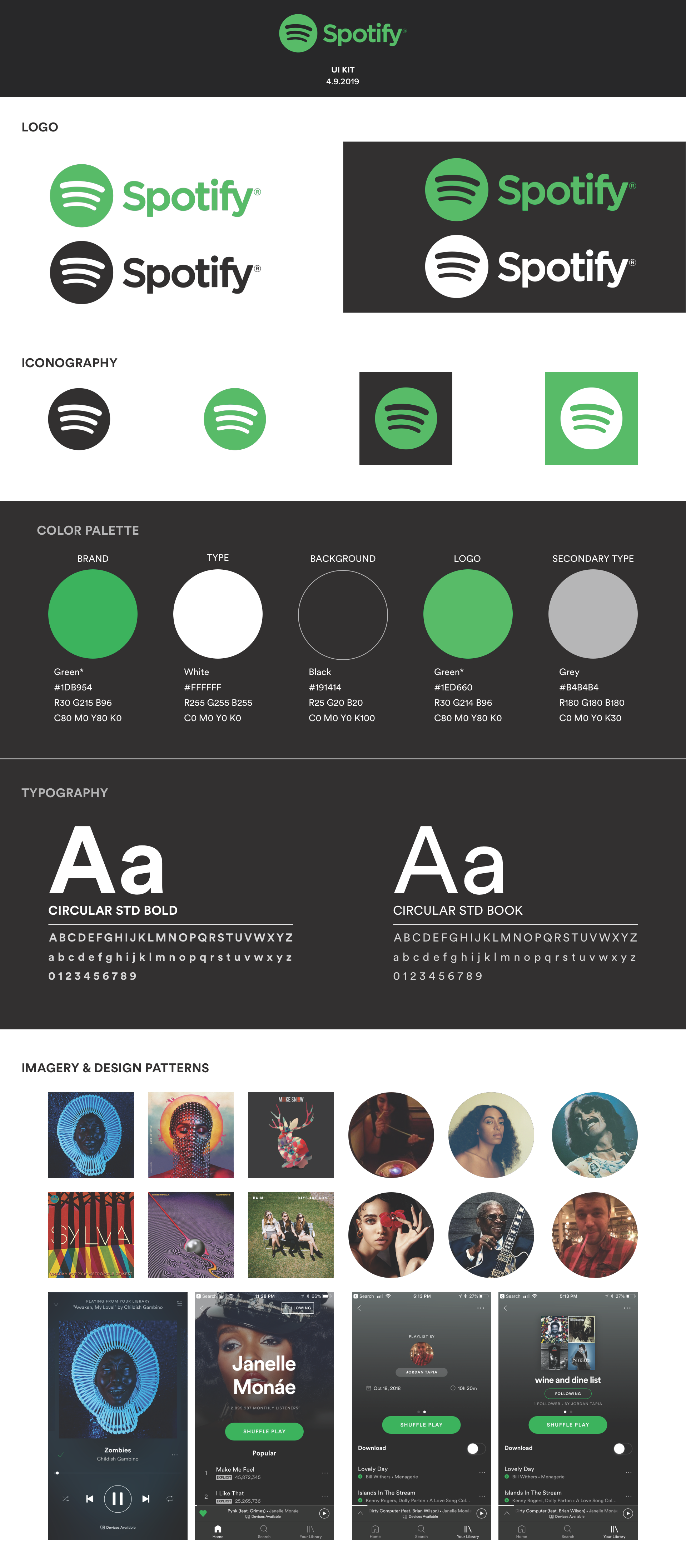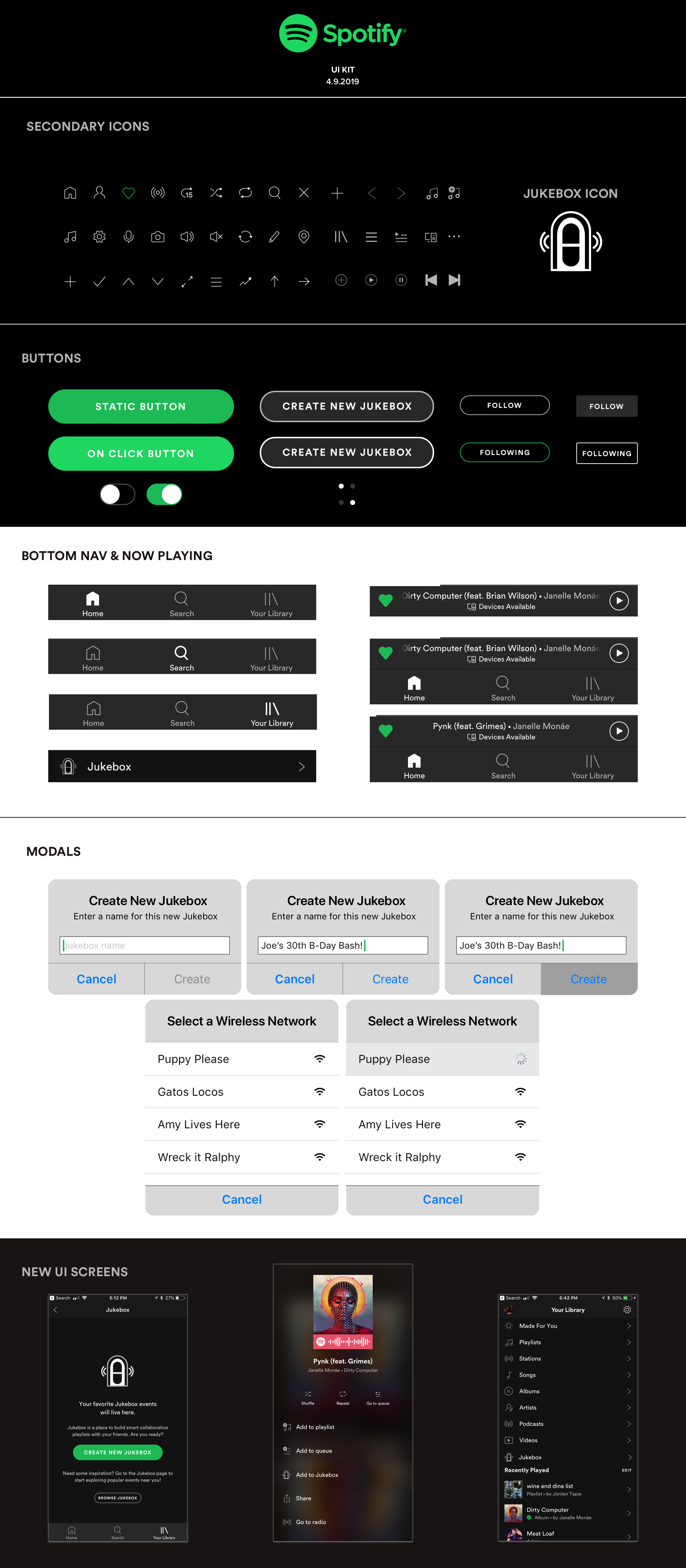 high fidelity wireframes
Once I had a clear vision for how the new feature design would fit in within the existing app, it was time to punch up the fidelity in preparation for building a hi-fi prototype to then take forward with user testing.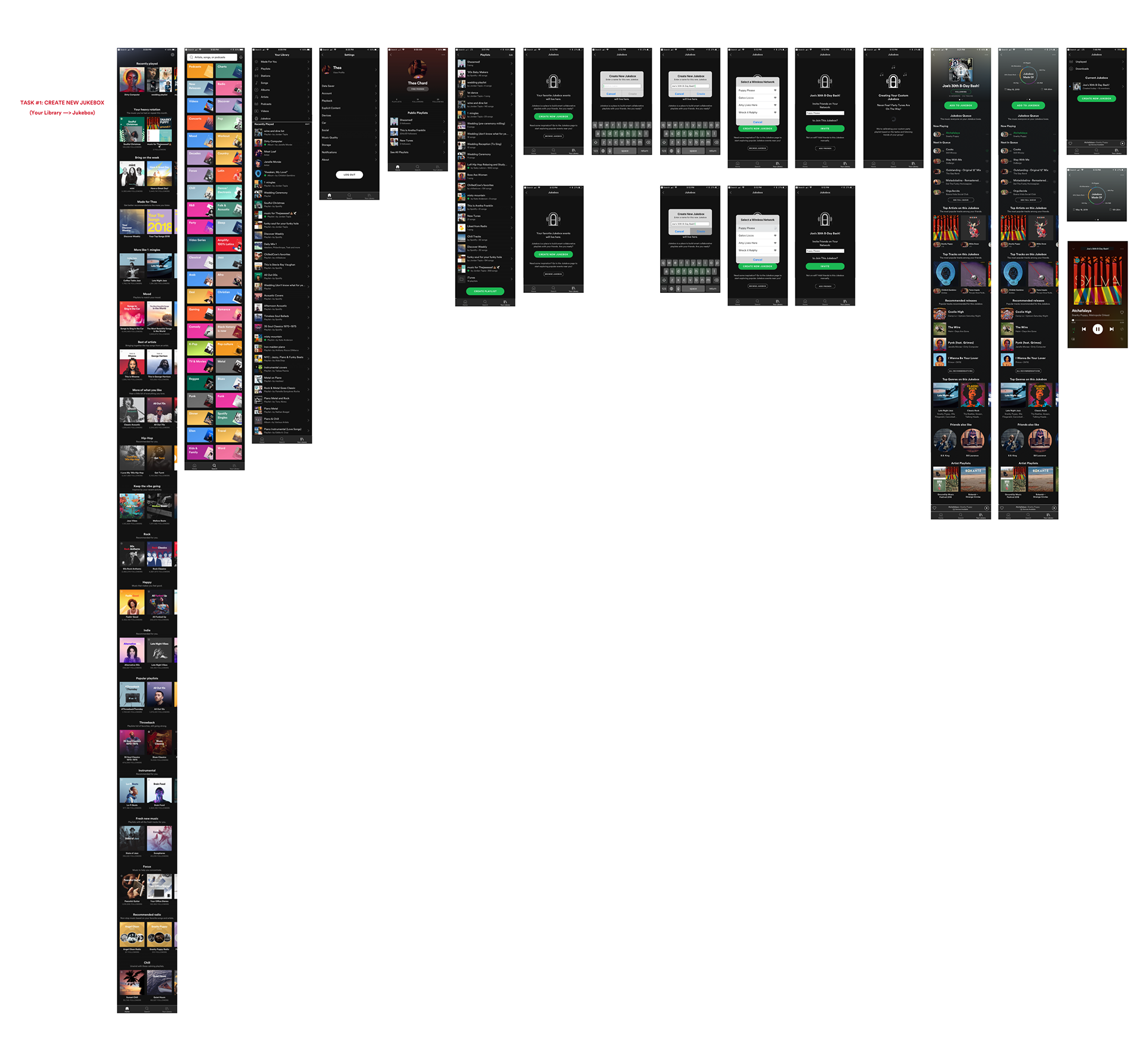 prototyping
deliverables: high fidelity mobile prototype (InVision)
Since I would be testing this new feature on existing Spotify users, it was important to prototype in high fidelity, which meant building out much of the existing app's UI, including home, search and my library screens, as well as state changes that differentiated where users would land based on their success working through the three user tasks I'd set about designing. 
Usability Testing
deliverables: usability testing plan, usability finding notes, affinity map
When designing for an existing product, it's important to keep to their brand standards—this project is about integrating a social feature into Spotify's mobile platform, not reinventing its UI altogether. Spotify has a solid and clear brand and a comprehensive style guide that served as my reference throughout the design process. 
1. Evaluate the usability and functionality of the new Spotify Jukebox navigation and information architecture
2. Test the effectivity of the primary task flow throughout the site (create a new smart collaborative playlist, aka "Jukebox") and determine if users are able to accomplish basic tasks, such as naming the Jukebox, inviting members via wifi, adding songs and voting up tracks in the event queue, with ease
3. In instances where there are multiple paths to navigating and completing a task , determine if users prefer one path and, if so, why
4. Observe and record any pain points, stumbling blocks, areas of hesitation, confusion or difficulty experienced by the test participants, as well as or errors in the design, and features they are attracted to or they find value in 
outcome
I conducted a series of usability tests (all with existing Spotify users) in which observed the participants as they navigated through each of the three tasks, noting some minor sticky points in the flow along the way. 
"When my family all hang out, my sister is always in charge of creating the playlist and it's a huge point of contention between us—this would alleviate a lot of that."
"Dude this is such an awesome thing! I hope they make this thing!" 
The test participants were enthusiastic about the new Jukebox feature, and were able to complete all three tasks within the allotted time (five minutes) with an error-free rate well over the goal of 50%. 
affinity map
After completing all user tests, I synthesized the data in an affinity map, highlighting successes and patterns found (and any pain points they were associated with). From here I distilled a number of insights and recommendations for future iteration, incorporating the most important updates into my final high-fidelity prototype.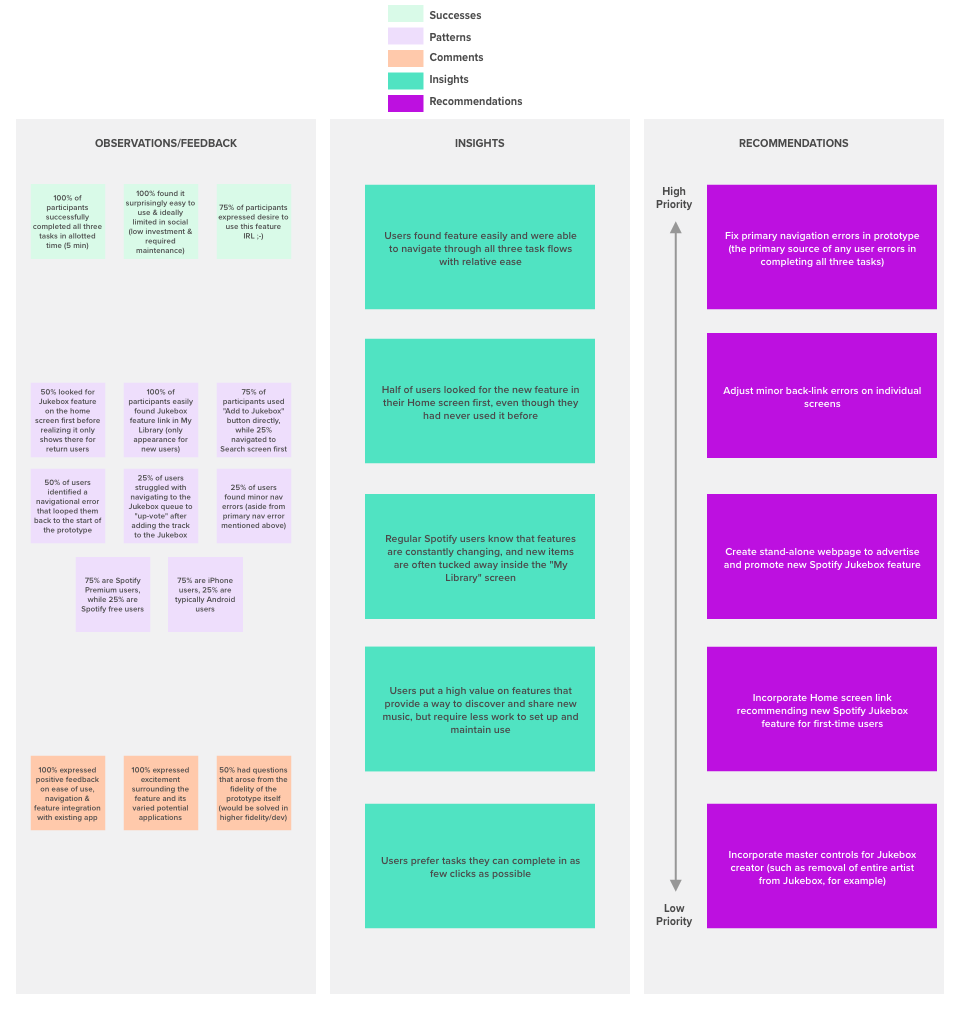 Conclusion 
Test participants enjoyed the ease of use the new Jukebox feature provided, reaffirming the initial research findings that low-maintenance playlist creation and sharing was of much greater need than more robust social functionality. 
While the new feature was easy for test participants to navigate, it was clear from observing their behaviors moving through the app that the cycle of continued updates within the Spotify UI can sometimes make it hard for users to find out about and keep up with new features. Considering Spotify's former social messaging feature was removed due to low user engagement, developing a promotional strategy to help aid in discoverability of the new feature would greatly benefit both the business and its users.